The room was packed; the mood fraught. It was November 2008 and the Ceylon Petroleum Corporation's (CPC) hedging deals were fast going awry.
Ashantha De Mel, then Chairman of the CPC, sat at the head table. On his right were the Chief Executive Officers of three of the banks – Standard Chartered (SCB), Citibank and Commercial Bank – with whom he had signed hedging contracts. A news conference was about to begin.

The CPC was confronted with making massive payouts to five local and foreign banks. The reason was simple: Because of the way they had been structured, the hedging agreements did not protect the CPC if world oil prices slid down. They would only serve the Corporation as long as the prices go up.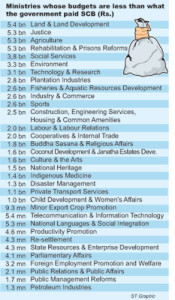 In contrast, if prices fell below a specified figure, the CPC would have to pay the banks the difference between that and the market price — with no limit on the downside. And while the oil price had peaked at US$ 147 per barrel in July 2008, it had fallen to below US$ 60 per barrel around the time of the news conference. It would drop even further in subsequent months, crashing to as low as US$ 30.
Mr. De Mel conducted an impassioned justification of the disastrous hedging deals. He was upbeat, claiming that they would simply restructure the agreements to mitigate the losses. (This didn't transpire in some of the contracts because of a detail in the formula adopted).
He also shielded the banks from criticism of "misselling". "Since starting our hedging programme," he explained, "the different banks have explained to the CPC the various downside risks associated with each product and we entered into these deals with full knowledge of these risks."
A media statement was passed around. Among other things, it declared confidently that, even though the CPC had to pay a marginally higher price, the country as a whole benefited from lower world prices.
"The CPC is committed to make the payments as and when they fall due," it asserted. "There is no question of defaulting on these payments. A default by the CPC will be as good as a sovereign default, which could have serious consequences to the country and its growth prospects. Our cash flow remains strong to meet the payments."
There is less bravado at the Corporation today. Its cash flow is floundering. And payouts on the hedging deals have added to a massive debt burden which consumers will eventually have to pay. Without having anything to do with the Government's decision to hedge for oil, or the expensive mistakes the CPC had made in the process, the ordinary public is saddled with the bill.
The CPC's debt has increased by 52.62% in the three years since 2011. According to the Finance Ministry's Mid-Year Fiscal Position Report released earlier this month, its outstanding debt stands at more than Rs. 225 billion — "an eye-watering amount," as one economist defined it.
ST