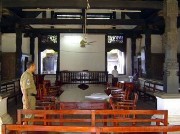 Work at almost all the courts around the country came to a standstill today in protest over allegations that government Minister Rishard Badhudeen had threatened a judge in Mannar.

Legal proceedings scheduled for today were postponed and people who had court cases to be heard today had been turned back when they went to court.
The Judges Association of Sri Lanka (JASL) had yesterday said it will file legal action on the Minister while the Bar Association of Sri Lanka (BASL) had said it will go on strike today.
A protest was staged yesterday by Muslim fishermen in Mannar against Tamil fishermen over the rights to a fisheries harbor in the area and the police were later forced to use teargas to disperse the crowd.
During the protest the Mannar Magistrates court was also damaged. However the JASL claims the Minister instigated the attack on the Mannar Magistrates court.
The JASL wants the police to arrest the Minister.
CG