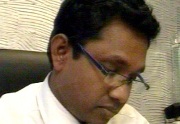 Court issued an order today directing the Mirihana Police to file action against Journalist Susil Kindelpitiya and two other individuals for allegedly threatening a woman and possession of a fire arm. Colombo Additional Magistrate, Prasanna Alwis gave this order after considering a petition filed by Kindelpitiya.

According to the motion that has been filed, notice was issued on the Mirihana Police OIC to appear before court today.
Thereby, court ordered a Police officer from the Mirihana Police who was present in court, to file action against the suspects.
The Magistrate also ordered the police to be present in court on July 2 for an inquiry.
Journalist Susil Kindelpitiya who contested the last parliamentary election on the UNP ticket and two
others were arrested by the Mirihana Police and held in remand custody for eighty days.
Kindelpitiya filed a motion informing court that the police had failed to file charges against them after the Colombo High Court released them on bail.
The Additional Magistrate issued notice on the Mirihana Police after considering Kindelpitiya's motion.
NF
Related news item in2010 April
Kindelpitiya's arrest raises serious concerns – UNP
Monday, 05 April 2010,
The manner in which police are handling the arrest of UNP Colombo district candidate Susil Kindelpitiya raises some serious concerns, says the United National Party.
A communique issued by the party noted that if Susil Kindelpitiya is involved in any illegal activity, the police indeed have the authority to carry out investigations in that regard, but the manner in which the investigations are being carried out goes to show that the government's political vendettas are being carried out. The communique noted that prior to Susil Kindelpitiya being placed in police custody, state media had revealed that a police complaint had been lodged against him at the Mirihana police station.
The United National Party noted that if such a complaint is received against a person, the police should conduct investigations into it, instead of rushing to hand it over to newspapers. The release also added that according to law, only the police media spokesperson is vested with the authority to give out information of that nature. The UNP questions the basis and authority upon which the police complaint lodged against Susil Kindelpitiya at the Mirihana police station was leaked to the state media. The party questions, what measures the Inspector General of Police has taken against the journalists or media institutions, or the Mirihana police that leaked the news to the media.
The UNP states that this is all made clear by the fact that there was no transparency and justice was not served in the manner in which Susil Kindelpitiya's arrest was dealt with. As such, the UNP states that it is reasonable for the party to come to the conclusion that this is being done in a bid to politically tarnish Susil Kindelpitiya's image, and that it condemns the government's use of the police to further its political objectives