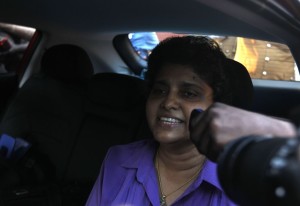 The Chief Justice was told by Police Officers that she cannot speak to the media as she is no longer the Chief Justice ( Reuters photo)
On 14th January, around 7 pm the Secretary to the President and DIG Anura Senanyaka required the Registrar of the Supreme Court to pack all belongings of the Chief Justice (Dr. Bandarayaka) and send the same to her residence.

He had also been told that the new Chief Justice would arrive on the following day and everything must be cleared for him. In the night, on 14th January, a large number of Defence personnel had occupied the Superior Court Complex.
On 15th January, early hours the Supreme Court Complex was cordoned off and riot squads, barricades and water cannons were kept in place. All the vehicles including that of the lawyers were checked to see whether Chief Justice Bandaranayaka was entering the Court premises. Police officers informed that they have ordered not to permit the Chief Justice Bandaranayaka. Around 9.45 am the road leading to Judges entrance to the Superior Court (Adhikarana Mawatha ) was sealed off. Armed police and STF personnel prevented anyone entering the Courts complex or its vicinity.
Around 10.30 am, approximately 200 people accompanied by Government politicians entered the cordoned off area, with active protection from the police. They stayed opposite to the main entrance to the Superior Court shouting slogans (cheering the President, new Chief Justice and Wijedasa Rajapaksa-President BASL and BASL).
The Media was not permitted within the Courts premises and was specifically prevented from entering the Courts premises. However, a large number of media personnel were present outside the main entrance to the Courts Complex. When two lawyers walked out of the Courts premises to talk to the media and to invite the media inside the Court Premises, the armed police and senior police officers prevented the two lawyers reentering into the Courts premises. Several lawyers gathered and protested to the Courts being barricaded. However, with the intervention of the Lawyers the two lawyers were permitted to re-enter. Around 12pm a large number of lawyers held a day light vigil which symbolizes the onset of darkness in the days to come.
Mr. Mohan Peiris PC was sworn in as a Chief Justice and arrived in the Courts complex around 1.30pm. He was received by a group of Sri Lanka Freedom Party Lawyers and several others.
Lady Chief Justice's residence was cordoned off and senior Police Officers were seen even within the premises. The Chief Justice was told by Police Officers that she cannot speak to the media as she is no longer the Chief Justice. The media gathered outside the residence was asked to leave. They resisted and reminded the Police this is where the so called Golden Key depositors had camped and provided Police protection. When the Lady Chief Justice came out of the residence she was prevented from speaking to the media and thereafter she issued a written statement in all three languages