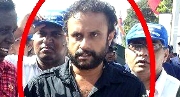 Sudarman in May day demo
Kaduwela magistrate Lanka Jayaratne today (May 10) ordered the immediate arrest of ITN's deputy general manager Sudarman Radaliyagoda over a charge of producing a fake document to obtain a scrap iron consignment from Sri Lanka Telecom, and that he be produced before the court.

The court previously issued orders for the suspect's arrest, but he is yet to be apprehended.
Police told the magistrate that he had gone missing from his home.
However, lawyer for the complainant said the suspect appears on television, frequents public places and even attended a May Day rally.
The journalist is accused of giving a fake document to two scrap iron dealers to obtain the scrap iron consignment from SLT.
The two have told police in a complaint that they had given Rs. 1.5 million to Radaliyagoda for the document.
The chief warehouse officer of SLT has complained that his signature had been forged into the fake document.
The lawyer added that the two scrap iron dealers were ready to assist police in the arrest of Radaliyagoda.
SLM