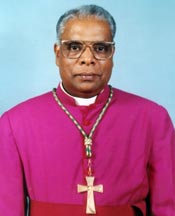 The Criminal Investigation Department has made arrangements to take court action against Rev Father Rayappu Joseph, the Bishop of Mannar, for issuing false statements, supporting the Tamil Diaspora, allied to the L.T.T.E.
The C.I.D. has summoned the Bishop to it's headquarters for issuing false statements to the international media saying that, the Sri Lankan government is harassing the Vanni Tamil people, who have migrated to Australia illegally and sent back to Sri Lanka by the Australian government.
C.I.D has questioned the Bishop for five hours and obtained statements from him.

Earlier, the C I D has obtained statements from the Tamil people, who have been expelled to Sri Lanka from Australia, and they have said that, they were not been harassed by the Sri Lankan government.
A higher official of the C.I.D. has said that, most probably, a case will be filed against the Bishop of Mannar,for providing false statements to the international community and embarrassing the country.
LCN