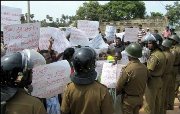 Riot control commandos of the Sri Lankan Police were deployed in large numbers Tuesday morning confronting hundreds of peaceful protesters, who objected the land grab being undertaken by the occupying SL military inside the so-called High Security Zone.
The protesters were demanding immediate resettlement in Valikaamam North. Parking several vehicles across the road and deploying armed riot commandos, the officers of the SL police told the protesters that they would not be allowed to march on the KKS Road to hand over a petition at the Divisional Secretariat in Thellippazhai. The protestors have given one month for the SL authorities to respond and have warned to step up the protest campaign unless there was no favorable response by the SL government to their demands.
After the conclusion of the protest in front of Thurkkai Amman temple, a bus carrying participants who had come from Vadamaraadchi were attacked while they were on their way through Chunnakkam – Punnaalaikkadduvan Road. The bus, carrying uprooted civilians from Valikaamam North residing in Vadamaraadchi East and Vadamaraadchi North.
At Thellippazhai, more than one hundred civilians and activists, led by Mavai Senathirajah of the TNA, took part in the peaceful protest march after conducting prayers at Thurkkai Amman Temple Tuesday morning around 10:00.
The SL police blocked the protesters when they began to march towards the Divisional Secretariat in Thellippazhai through the KKS Road.
After verbal confrontations that ensued between the SL police and the demonstrators, the SL police said it could only allow five persons to walk towards the Divisional Secretariat to hand over their appeal on behalf of the demonstrators.
A four member delegation that included Mavai Senathirajah MP, the chairman of the civic body in Valikaamam North, Mr. Sugirthan, and the deputy chairman, went to the DS to hand over the appeal.
Mr Mavai Senathirajah said his house had also remained occupied inside the HSZ and that he is yet to resettle in Maaviddapuram.
While waiting for the delegation to come back, Kajendren of the TNPF and Sivajilingam of TELO, led the protest shouting slogans against land grab.
Later, Mavai Senathirajah MP, Kajendren addressed the demonstrators.
The demonstration staged by the TNA on Tuesday, was supported by the Tamil National Peoples Front (TNPF), which launched the protest campaign on Monday, by Mano Ganesan's Democratic Peoples Front (DPF) from the Western Province and the representatives of trade unions.
TN