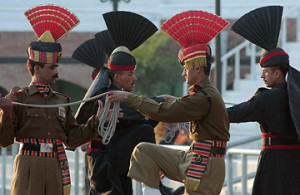 Pakistani (in black) and Indian (in brown) border guards
Amir Zubair Siddiqui, a diplomat attached to the Pakistan High Commission in Sri Lanka, has been named in the First Information Report (FIR) on the suspected ISI-sponsored espionage module busted by the Tamil Nadu police in Thanjavur on Monday, police sources said on Thursday.
Mr. Siddiqui, whose designation is given as Counsellor (Visa) in the official website of the Pakistan High Commission in Sri Lanka, is alleged to have instructed Thamim Ansari of Adiramapattinam in Thanjavur district to videograph sensitive defence installations in India through his agents Haji and Shaji residing in Colombo, the sources said.

Abash Kumar, Inspector-General of Police (Internal Security), told The-Hindu that the case was based on the confession of Ansari, who was arrested by a special team of the State intelligence on Monday. "We will investigate the role of Siddiqui in this case," he said.
Police intercepted Ansari when he was heading for the Tiruchi airport to take a flight to Colombo. Two DVDs containing visuals of the Army Para-Gliding training and a parade of the Army Signal Corps were seized from him. Police claimed that he had admitted to having videographed vital installations, including the Nagapattinam Port and the Madras Regimental Centre in Wellington.
"The information is that Siddiqui is working for Pakistan's Inter-Services Intelligence and he hired agents like Ansari and others to get visuals of vital installations. We have to investigate this input at the appropriate level. Since the issue involves a foreign country, the case may be transferred to the National Investigation Agency (NIA)… considering the activities that subvert national interest, Ansari maybe detained under the National Security Act (NSA)," an official in the 'Q' Branch CID said.
When contacted, a Pakistani High Commission official in Colombo said the mission was unaware of the development.
Alert issued
Meanwhile, sources in the intelligence agencies said a general alert had been issued to security agencies guarding vital installations in the State to enhance vigil following the unearthing of the espionage module.
S. Vijay Kumar
The Hindu