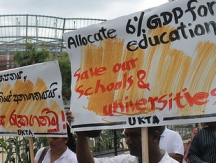 Press Release, GTF
Global Tamil Forum condemns Sri Lankan Government's indefinite closure of 13 of the 15 state-run universities on the island, in response to strikes over privatisation of the higher education system, politicisation of key appointments in the sector and military training of all university entrants. This latest act to undermine academic freedom and institutional autonomy is a continuation of heavy militarisation of the island to maintain social control and curb any democratic opposition. Denial of university places for qualified Tamil entrants through a discriminatory education policy in the 1970s was a major trigger of the Tamil youth rebellion.

The Rajapaksa regime's use of force and intimidation to rule the population threatens all forms of freedom for expression – the very foundation of democracy. Attacks on journalists, media establishments and human rights activists continue with widespread impunity to censor any criticism of the Government. Centralising powers to the President has already severely compromised the independence of the judicial system on the island and consequently there is breakdown in the rule of law. The UK foreign Office has last week issued a travel advisory warning British citizens of an upsurge in nationalism, sexual offense and anti-Western (particularly anti-British) rhetoric in Sri Lanka.
Tamil people have demonstrated to the world in many ways that there needs to be significant changes to the current constitution to resolve their genuine political grievances. Tamils do not consider the 13th Amendment to the constitution as grounds to satisfying their political aspirations or forming a lasting political settlement. It has become common practice by the Sri Lankan regime to avoid addressing the genuine political grievances of the Tamil people by silencing voice of dissent and hoodwinking the international community with delay tactics and reconciliation facade.
The Government has chosen to adopt a selective approach to democracy. President Rajapaksa has announced that the Northern provincial Council elections need to be delayed until September 2013, to allow time for the completion of the rehabilitation and resettlement process in the Province and for electoral rolls to be updated. It is therefore ironic that three other elections have been held following the end of the war — presidential elections, parliamentary elections and elections to local bodies, in which the voters from the Northern Province have participated. Despite the heavy military presence and intimidation efforts, the Tamil people exercised their democratic right and voted to show support for the Tamil National Alliance (TNA), as evident in the local and parliamentary polls in the North.
The onus is once again on our kith and kin to stand in solidarity against these apparatuses of oppression in the upcoming Eastern Provincial elections and show support for the TNA. Global Tamil Forum will always play its part, working with democratically elected representatives of the Tamil people and other democratic forces in the island to achieve permanent and just peace and a lasting political settlement for the ethnic conflict in the island.
-ENDS-
Media Contact: Suren Surendiran
Tel: +44 (0) 7958 590196
Skype: surendirans
Email: [email protected]