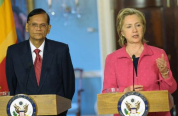 Washington — Secretary of State Hillary Rodham Clinton said the United States wants to be a supportive partner in Sri Lanka's reconciliation and reconstruction efforts following decades of conflict between the government and Tamil rebels.

Speaking with Sri Lankan Foreign Minister Gamini Lakshman Peiris ahead of their meeting at the State Department May 18, Clinton said the Obama administration "strongly supports the process of reconciliation and reconstruction" in the country and that Sri Lanka enjoys strong and independent ties with the United States.
"We were encouraged to see the end of a very long, bloody, terrible conflict, and look forward to working with Sri Lanka as they pursue their commitment to a better future for all the people," she said.
Following the meeting, State Department spokeswoman Victoria Nuland told reporters Foreign Minister Peiris had presented Clinton with "a very serious and comprehensive approach" to the implementation of recommendations from Sri Lanka's Lessons Learnt and Reconciliation Commission (LLRC), appointed by President Mahinda Rajapaksa in 2011 to investigate and address the issues that led to the 1983–2009 conflict.
Peiris told Clinton about the Sri Lankan government's plans with regard to the LLRC, such as making public, "both to Sri Lankans and to those outside Sri Lanka, what the government intends to do in the implementation round," Nuland said.
The secretary reportedly encouraged Sri Lankan authorities to have a "really transparent, open public process, not only on the LLRC specifically and its implementation, but also with regard to accountability," Nuland said, so that public confidence in its reconciliation efforts will be strengthened both inside and outside Sri Lanka, as well as to help "speed the healing of the country."
According to Nuland, Clinton told Peiris, "'Good plan. Now you really need to make it public. Now you really need to show your people [and] the world the concrete implementation steps going forward.'"
She also stressed the importance of demilitarizing the northern part of the country and holding provincial elections there, as well as the protection of human rights, including the protection of the press, having the government create space for Sri Lankan civil society, and "generally the creation of an environment that is inclusive," Nuland said.
Ahead of his meeting with Clinton, Peiris said there is an "intimate connection between reconciliation and economic development" in Sri Lanka, and "any realistic process of reconciliation must focus upon economic factors" with "a certain threshold of economic contentment and well-being, and emphasis on access to livelihoods and incomes."
If Sri Lanka's reconciliation process is to be successful, "it must reflect sensitivity to the aspirations of our people. It must have a homegrown polity," so the majority of the people can identify with the process and allow it to "come alive in their hearts and minds," he said.
Peiris said that with the return of peace and tranquility in Sri Lanka, "there is abundant scope for building further upon the relationship that is already very strong and vibrant" between Sri Lanka and the United States.
IIP