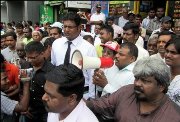 The Sri Lankan Police in Jaffna on Monday blocked a protest that gained momentum receiving wider participation against the occupying SL military's land grab in the peninsula. As hundreds of activists gathered in front of the Jaffna Bus Stand, the SL Police appealed to the Judge of the District Court stating that the Police had information that 'destructive elements' were about to use the protest to disturb normalcy in the city and blocked the protest at last minute. The protest, initiated by the Tamil National Peoples Front (TNPF) and attended by the Tamil National Alliance (TNA), Mano Ganesan's Democratic Peoples Front (DPF) and the leftist parties from the South as well the support it received from the Jaffna University Students Union (JUSU) and the trade unions including the teachers trade union, marked the protest as first of its kind in the post-war scenario in the peninsula.
Following the 'sabotage' move by the SL Police, using the legal system of the unitary Sri Lanka, a court order was issued banning the specific protest.
The SL police obtained 'legal' permission to cancel the protest and disperse the crowd, based on its report submitted to Jaffna District Judge M. Ganesarajah.
While the public was pushing for the protest to be carried on as planned, the organisers cancelled it, saying that their next move would expose the legal system as they would seek to secure permission from the same court before staging the next protest.
The protest had been announced in front of the Jaffna Central Bus Stand.
Mr Selvaraja Kajendren, the general secretary of the TNPF, said that the 'legal move' by the SL Police to curb the protestors against the land grab, only indicated that the forces behind land grab in the peninsula have been severely disturbed by the emerging trend to stage protest against the illegal appropriations of land.
The leading participants addressed the public by conducting a press conference at the TNPF office situated on 3rd Cross Street.
Reiterating unity across parties opposing the land grab by the SL State, the organisers urged the masses to take part in the protest announced by the TNA in Valikaamam demanding Colombo to demilitarise the so-called High Security Zone.
The mobilisation against land grab, initiated in the form of civil protest, has become a success as it had threatened the Colombo establishment and as it had created a trend in bringing all the actors to stand united against the land grab, independent observers in Jaffna told TamilNet.
In the meantime, protests are being planned against land grab in Thirumu'rika'ndi in Ki'linochchi and in Mullaiththeevu in the coming days.
TN