The latest update of CIVICUS Monitor ratings in November 2021 indicates that civil
society continues to work in an increasingly hostile environment. Our data shows
that there are 25 countries with closed civic space, 49 with repressed space, and 43
with obstructed space, meaning that 117 of 197 countries are assessed as having
serious civic space restrictions. In comparison, 41 countries are rated as having
narrowed civic space and just 39 countries have an open rating.
Almost two years have passed since COVID-19 started to spread, changing the
world as we know it. Although many of the present economic, social and political
challenges pre-existed the pandemic, they have been exacerbated by it.
It might feel that the world stopped, at least for a while, in an attempt to reduce
the spread of the virus. But soon it became apparent that many authoritarian
governments, as well as some more democratic ones, had not fully taken to
addressing one of the world's biggest health emergency emergencies.
Instead, some of them seized upon the opportunity to further entrench their power, by holding elections that were neither free nor transparent, extending governmental term
limits and passing laws to undermine and limit the space for dissent. In the context
of a health emergency, they continue to restrict – beyond what is permissible under
international law – people's right to expression and peaceful assembly, continuing
the repressive patterns documented in 2020.
While the pandemic has offered a new pretext, governments continue to use similar
tactics of repression in their attempts to stop activism, silence critical voices and
crush dissent.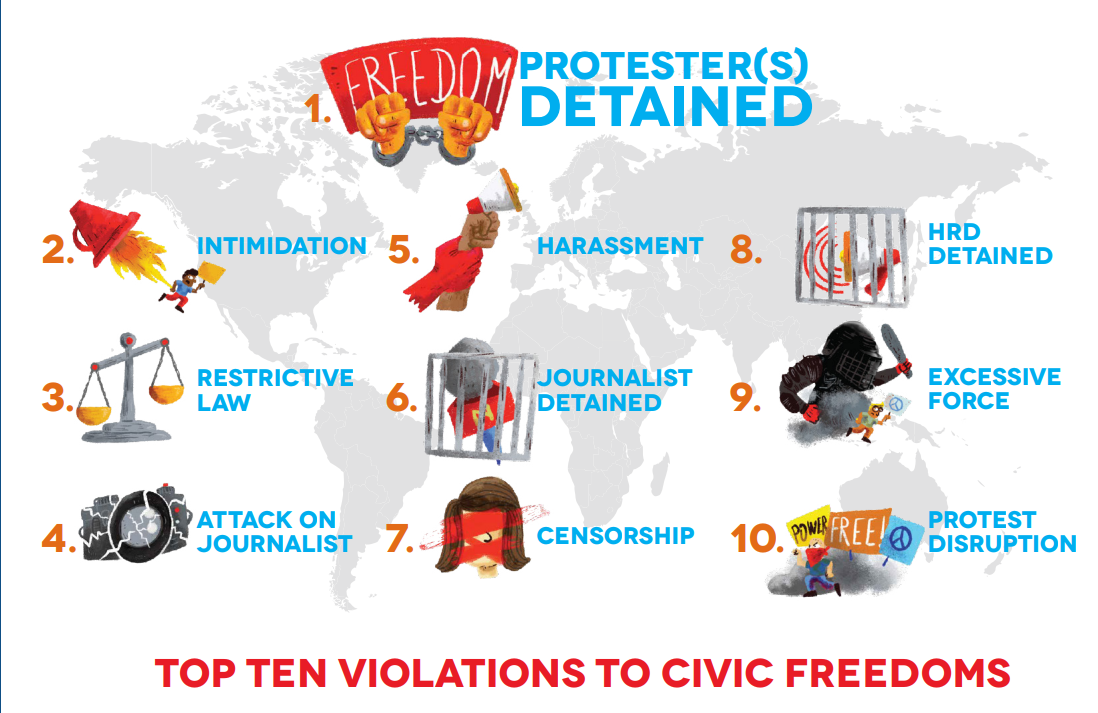 DETENTIONS ON THE RISE
Among the tactics most documented during the reporting period is the detention
of protesters, HRDs and journalists. Arbitrary detention is a blatant violation of
personal liberty, but in the context of the pandemic, the consequences of arbitrary
detention and criminalisation could be life threatening due to the increased risk of
the virus spreading in confined, crowded spaces.
As protests continue to take place amidst a global pandemic, authorities in several
countries were determined to disperse and prevent any form of protest. The CIVICUS
Monitor documented many instances of protesters being detained while making
demands for fundamental rights.
Red full report on line here