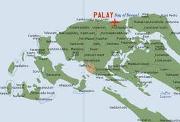 The civic bodies in Jaffna have resolved that they would not allow the lands that come under the authority of the civic bodies to be appropriated for military purposes. "As the elected members of the public, we are not going to allow the lands to be deployed for the construction of military cantonments against the will of our people, whom we represent,"
was the decision taken by all the civic bodies, a TNA politician in Jaffna told media Sunday. "The decision was unanimous," the sources further said.
In the meantime, the chairman of Piratheasa Chapai (PS) of Valikaamam North, S. Sugirthan, has told media in Jaffna that the SL military had sought 100 perches of land at Chaa'lampai area in Mallaakam.
The SL military has been seeking to acquire the lands where people uprooted from Thaiyiddi and Myiliddi villages that come under the so-called High Security Zone. The uprooted people were living in Chaa'lampai area since 1990.
"It is unreasonable to expect lands used by the displaced people for military purposes," Mr Sugirthan told media.
"How could the military expect to establish camps in civilian area when they continue to keep the lands in the High Security Zone from where the people have displaced," he asked.
On Friday, at an special session of the civic body in Valikaamam North, even the opposition members of the EPDP had supported the decision to decline the request of the SL military.
A similar move by the military to appropriate lands at Thamma'lai in A'laveddi was also declined by the civic body.
The SL military should first consider handing over the lands they are already occupying in the name of HSZ, was the opinion of the civic bodies in Jaffna.
The chairman of Valikaamam East PS, Uthayakumar alias Ramesh, said he was yet to receive any request from the military seeking lands in Valikaamam East. But, any such request would be turned down by the civic body, he said adding that the civic body was facing tough questions from the people on the recently reported move by the SL military on land appropriation in the peninsula.
The chairman of Kaarainakar PS, V. Anaimukan, has already gone on record saying that he had been threatened at gunpoint to hand over the lands to military use. According to earlier reports, a Sri Lanka Navy officer from the Kaarainakar SLN base approached Mr Anaimukan while he was attending a meeting and forced him to sign on documents at gunpoint for a land that was appropriated for military use.
The civic bodies headed by Tamil National Alliance (TNA) representatives in Jaffna peninsula are also considering to hand over the lands to displaced civilians from Vanni to avoid future pressure from the SL military that seeks to appropriate lands from the civil authorities.
TN