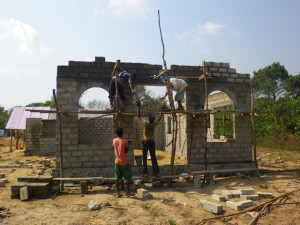 Barnabas is funding the construction of new churches in Sri Lanka
Barnabas is funding the construction
of new churches in Sri Lanka
Vicious attacks targeting church leaders and the harassment of other Christian workers and church members are increasing the pressure on the vulnerable Christian community in Sri Lanka.
On 9 August, a senior pastor and his wife were set upon by a mob of around 40 men, accompanied by five Buddhist monks and the assistant secretary of the local government authority. The couple, from Deniyaya in Matara district, were returning from a visit to a church member and her daughter when their motorbike was cut up by a 4X4 vehicle, throwing the wife to the ground.

The assailants descended on them carrying rocks and shouting, "Attack them, kill them." The pastor was dragged along the ground and beaten by the mob. They accused him of spreading Christianity and threatened to kill him if he did not stop.
The pastor suffered injuries to his legs and body. Both his and his wife's ID cards, his mobile phone, Bible and other documents were taken. The following day, hoax calls were made to church members from a person pretending to be the pastor, asking them to meet him at various places.
Shortly after the assault on the couple, the same offenders threatened a female Christian worker at her home, also in Deniyaya, ordering her to leave within three days. Another church worker who arrived at the scene was also threatened and his ID card stolen.
The week before these incidents, on 1 August, the house of a pastor in Pokunawita, Horana Kaluthara district was attacked in the middle of the night while he, his wife and their four sons (aged 14, 10, 8 and 3 months) were asleep. The attackers smashed all the windows with clubs; broken glass fell onto the bed where the baby was sleeping, but he was not hurt.
The pastor called the police, but they did not come. He had previously been warned of a plot by a Buddhist monk and others to attack him when he visited church members in a nearby village.
The incident has left his three older children traumatised; they are now afraid to be in their home.
BF