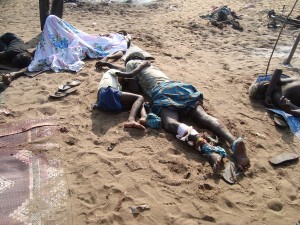 Civilians who had been trapped in Sri Lanka's north, during the last month of the war. May 2009. © Private
This image was taken in the last month of Sri Lanka's bloody armed conflict. These people were among the tens of thousands of civilians who were killed and wounded at that time.
Caught in the crossfire between Sri Lanka's armed forces and the armed opposition Liberation Tigers of Tamil Eelam, they would have been terrified, desperate to escape the carnage. But there was no escape.
When people tried to find a way out of the fighting, they were attacked. When they were injured and tried to get medical help, their makeshift hospitals were shelled.
Today, another battle is consuming the island. Operated by stealth, it targets journalists, lawyers and other activists so that dissenting opinion is silenced.
As Sri Lanka prepares to host a meeting of leaders of Commonwealth countries from 15-17 November, the iron grip of the state is in full force. The capital, Colombo, has been swept "clean". And the Commonwealth seems all too willing to take this sanitized version of Sri Lanka at face value.
In December 2012, all Commonwealth states adopted a new charter which promotes human rights, democracy and the rule of law. Yet the Commonwealth has been shamefully silent about Sri Lanka's human rights crisis. It has failed to address the persistent lack of justice for past crimes and ongoing attacks on activists.
The most explicit expression of this failure is the Commonwealth's decision to let Sri Lanka host its meeting this November. We gathered an amazing
190,475
signatures
to our petition calling on leaders to use the meeting to demonstrate respect for the values they signed up to as members of the Commonwealth.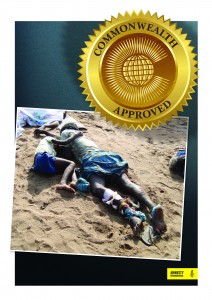 3274 AMN CHOGM PLACARDS.indd
Now, there are only 10 days to go before the meeting officially opens. At the end of that meeting, it is customary to appoint the host country as chair of the Commonwealth for the next two years. But with so much injustice in Sri Lanka, this must not be allowed to happen. If the Commonwealth appoints Sri Lanka as its chair, it's approving of human rights abuses.
Show them that you don't approve.
Share this image with your friends on Facebook, adding this message:
If the Commonwealth appoints Sri Lanka as its chair, it's approving of human rights abuses
.
If you're a blogger, please re-blog this post.