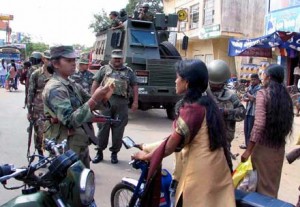 Militarisation is visible
By THE EDITORIAL BOARD, New York Times /November 13, 2013
In August, the United Nations high commissioner for human rights, Navi Pillay, issued scathing observations on the state of human rights in Sri Lanka after her visit there. Ms. Pillay denounced, in particular, attacks on freedom of expression and a climate of fear that is undermining democracy and eroding the rule of law. She has set a deadline of March for the Sri Lankan government to undertake a credible inquiry into reported human rights violations. The government disputes her findings.

Under the Rajapaksa government, journalists have been systematically threatened, harassed, killed or forced into exile in what amounts to a war on the press. Journalists and news organizations that do not toe the official line have their offices sacked, their staff detained, their equipment destroyed and their lives threatened. According to Amnesty International, government and military control of the news media has increased, and journalists have left the profession in droves. Many who remain have adopted self-censorship to survive.
During elections in September in Northern Province, where much of the country's ethnic Tamil population lives and where the worst carnage of the civil war took place, the government did everything it could to sabotage a free and fair outcome, including publishing a fake edition of the local newspaper Uthayan. Despite such tactics, the Tamil National Alliance's decisive victory in the elections demonstrated the strength of the people's desire for political rights.
Human rights groups have called for a boycott of the Commonwealth Heads of Government Meeting being held in Sri Lanka this week. To their credit, Prime Minister Stephen Harper of Canada and India's prime minister, Manmohan Singh, announced they would not attend.
The British prime minister, David Cameron, on the other hand, rejected calls for a boycott. "I think it's best to turn up and make your argument," he said this week, saying the visit would draw attention to human rights issues.
The Rajapaksa government is holding up the meeting as proof that the Commonwealth has no problem with its behavior. As the meeting's host, Sri Lanka will assume chairmanship of the group for the next two years, a prospect that will make a mockery of Commonwealth values.
Leaders attending the meeting must insist, at the very least, that the Sri Lankan government show meaningful progress in addressing human rights abuses, abiding by international standards and restoring constitutional protection for freedom of expression.
NYT