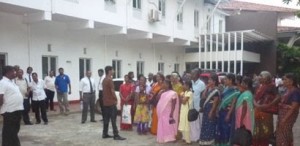 Participants at the Festival
A youth from Mullaitivu who had attended the Human Rights Festival at the UNP Sirikotha headquarters has been arrested by security forces this afternoon. (Nov. 14).
The youth, named Sudharshan was arrested by Mirihana police OIC and a group of TID officers, reports say.

Speaking to 'Sri Lanka Mirror', organizing committee member – activist Freddy Gamage said that the youth had attended the Human Rights Festival to speak on behalf of his disappeared brother. The youth has been arrested while he was leaving the Sirikotha to go home, he added.
Mirihana police has informed that all persons who arrived at the HR fest from the Northern region should be searched and their personal details and ID should be reported immediately, Mr. Gamage added.
At the present, security around the UNP headquarters has been beefed up and all persons arriving and leaving the premises are being searched.
Mr. Gamage further added that around 50 mothers who had arrived at the event from the North region are stuck in 'Sirikotha'
Tamils held by police at Sirikotha released
DIG Anura Senanayake has ordered the release of the Tamil people being held by police at the UNP headquarters, reports say.
Personnel from the TID and Mirihana Police kept the participants from the north at the human rights festival at Sirikoth under house arrest, saying they should be investigated, a coordinator of the festival Freddie Gamage told 'Sri Lanka Mirror.
A little while ago, another coordinator of the event Britto Fernando received a phone call from DIG Senanayake, saying the Tamil people could return to their homes without any disruption.
Channel-4 journalists who had been present at the location had asked police about this change of decision, but were not given any answer.
Pictures below show the Tamil people preparing to leave