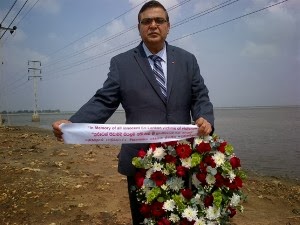 Deepak Obhrai in Killinochchi
The Canadian Government says it recognizes the suffering that the LTTE brought upon all Sri Lankans. A statement by the Canadian Government said the LTTE has been proscribed as a terrorist organization by the Stephen Harper government since 2006, and remains so today. Canada categorically rejected what it said was grossly false reporting in the Sri Lankan media suggesting that Canada's head of delegation for the Commonwealth Heads of Government Meeting (CHOGM) Deepak Obhrai had engaged in an activity to commemorate the LTTE.

The statement said that Obhrai, as Canada's representative to CHOGM, took the opportunity to honour all innocent Sri Lankan victims of violence by laying a wreath at Elephant Pass in northern Sri Lanka.
The statement added that Canada will continue to stand by Sri Lankans in efforts to ensure that all citizens can live in an environment of peace, stability and dignity
13 November 2013
lankasrinews
PM Harper's rep lays flowers for Tigers
November 12, 2013,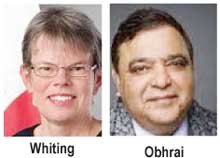 By Shamindra Ferdinando
Canadian MP Deepak Obhrai, Parliamentary Secretary to Ministry of Foreign Affairs and International Human Rights, yesterday laid flowers at the Elephant Pass cemetery on his way back from Jaffna.
A senior government official alleged the flowers had been for those who died fighting for the LTTE, a proscribed organisation in Canada.
Obhrai is in Sri Lanka for the three-day Commonwealth Heads of Government Meeting (CHOGM) scheduled to begin on Friday. The MP represents Canadian Prime Minister Stephen Harper.
A senior security official alleged that the Canadian's gesture was meant to placate the LTTE activists in Canada.
Asked whether Sri Lanka would protest to Canada against the laying of flowers, the official said that the Commonwealth Secretariat should explain its position. He said that the Canadian Prime Minister's representative was accompanied to the cemetery by the Canadian High Commissioner in Colombo Shelley Whiting.
They entered the cemetery in spite of a Sri Lankan official accompanying them requesting them not to lay flowers there.
Officials alleged that other delegations visiting Jaffna, too, would try to follow the Canadians. Among those expected to visit Jaffna were British and New Zealand delegations.
Earlier, Obhrai cancelled a media briefing scheduled at Canadian High Commissioner's Colombo residence on Monday at 6.00 p.m.
The Island