Military Media Spokesman, Brig. Ruwan Wanigasuriya, yesterday alleged that organized groups are trying to draw international attention to their claim that the military should be moved out of the North, under the guise of blowing out of proportion, a non-existent or minuscule land issue through purported demonstrations.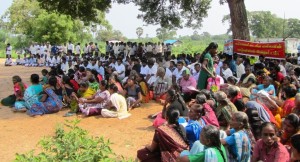 Section of the protestors ( Tamil Net photo)
Wanigasuriya was responding to a query by Ceylon Today about the tense situation that prevails in the North, in the wake of a series of protests that had followed.
"Their objective apparently is to draw the attention of the Heads of States who are coming to… …Sri Lanka to attend the Commonwealth Heads of Government Meeting (CHOGM) that starts on Friday (15). When the British Prime Minister visits Jaffna, these people want him to watch their circus," he said.
This is a circus in the very sense of the word and it cannot be described as a true protest campaign by any stretch of the imagination, he added.
Elaborating further, the Military Spokesman said a total area of 11,000 acres where the Army camps had been located, have now been reduced to a 6,000 acres due to the Army vacating those areas.
An area of 5,500 acres had been given back to the people of the area. In addition, a further extent of 250 acres will be returned to the people this week.
After the end of the terrorist war in the North, there had been no resurgence of terrorism due to the close watch the military had been keeping in the area. Army camps have been set up only at strategic places which have been identified as vulnerable locations.
The military camps in and around the Palaly Airport and Kankesanthurai Port had been in existence for the last 50 to 60 years. The land areas in those camps were only being expanded later on to suit the present security requirements.
At present, camps are being set up ony in places that the military considers absolutely necessary, the Brigadier added.
by PREMALAL WIJERATNe