Meera Srinivasan
British Prime Minister David Cameron visited the Sabapathipillai Welfare Centre at Chunnakam, about 10 km from Jaffna town, on Friday. He walked into the narrow lanes with tiny homes adjacent to each other and talked to some residents. Tamil National Alliance (TNA) MP M.A. Sumanthiran helped with translation.
The welfare centre is essentially a camp for internally displaced persons – with very basic facilities – where nearly 300 families that were forced to leave their homes during the war live.
"He [Mr. Cameron] will take us back to our home near Kankesanthurai," said Rasaiah Rasati, 65, who seemed to be brimming with confidence after speaking to the British Prime Minister.
Many in the camp said they pinned their hopes on the British leader's visit, though visits by many others had not made a difference to their lives.
"It has been 23 years since I left my home [due to the war]. Today, they [the army] does not let us anywhere close to our own home," said Ms. Rasati.
Walking towards another home, Mr. Cameron asked Mr. Sumanthiran: "So basically, the army has taken over their land. They can't go to court since the courts here won't render straight justice, right?" With Mr. Sumanthiran nodding, he said: "This is where we have to apply pressure." Though the government says action is being taken, nothing has changed, Mr. Sumanthiran, also a lawyer, later told The Hindu.
Besides the issue of land, Mr. Cameron, according to TNA sources, discussed the process of devolution.
Mr. Cameron held discussions with Northern Province Chief Minister C.V. Wigneswaran at the Jaffna Public Library, where TNA leader Mr. Sampanthan and Mr. Sumanthiran were also present. He visited the offices of Uthayan, popular Tamil daily that periodically carries reports critical of the Sri Lankan government and which has been attacked several times.
According to managing director of the publication and TNA MP E. Saravanapavan, Mr. Cameron said he would also raise the issue of freedom of speech with the "higher-ups."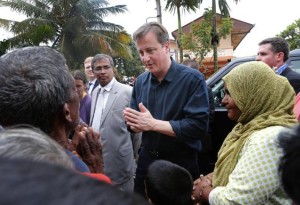 British Prime Minister David Cameron talks to villagers of an IDP camp in Jaffna on Friday.
AP

British Prime Minister David Cameron talks to villagers of an IDP camp in Jaffna on Friday.
At a demonstration near the Jaffna Public Library, Saro Sripavan, mother of three, said she has been looking for her husband for seven years now. "He was working as manager in a cooperative society and went missing in 2006. Till date, I have no information about him," she said, looking at his photograph.
"Every time someone important comes to Jaffna, we all assemble and try to highlight our concern, but ultimately I know only I have to look for my father," said her son Sripavan Daneesh, who works as a sales executive.
"I just want to know if my daughter, who went missing in 2008 when she was in her early 20s, is alive or dead. This uncertainty kills me," said Kanagasingam Hemalatha.
We are here because of trust: Prince Charles
Prince Charles said he was pleased to be back in Sri Lanka. At this meet, the Commonwealth was being charged to confront the many issues affecting the security and well-being of its nations and peoples. He was speaking at the opening ceremony of CHOGM at Colombo. "Each one of us is here because of the hope and the trust we place in the Commonwealth to bring that 'touch of healing' to our troubles and deliver the very best future for our people," said Prince Charles, who represented the Queen at CHOGM.
Commonwealth Secretary-General Kamalesh Sharma said Sri Lanka, which took over the leadership of Commonwealth, had shown enduring energy in the global Commonwealth family.