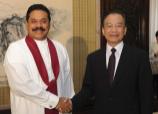 China will extend increasing support to infrastructure projects in Sri Lanka and will also back the country's efforts to promote reconciliation without any external interference, Premier Wen Jiabao told visiting Sri Lankan President Mahinda Rajapaksa in talks here on Thursday.

Mr. Wen said China was also ready to "promote communication" between the two countries with regard to infrastructure projects and expand two-way trade and investment, the official Xinhua news agency reported.
The Chinese Premier said the "ever deepening" cooperation between both countries was promoting "regional peace and development".
Mr. Rajapaksa is on a four-day visit to Beijing and Shenzhen, where he will be the guest of honour at Friday's opening of the 2011 Universiade, or university games, and will also meet President Hu Jintao.
His visit comes at a time of particular significance for the bilateral relationship, with Sri Lanka seeking crucial Chinese support against international pressure, in the wake of a United Nations report accusing the government of war crimes.
Mr. Rajapaksa told Mr. Wen Sri Lanka appreciated China's valuable long-term support.
"We also appreciate very much the understanding shown by China on the pressures of the post-conflict period, and the support extended to heal the wounds of war," he told Xinhua in an interview earlier this week.
On Thursday, Mr. Rajapaksa was conferred an honorary doctorate by Beijing Foreign Studies University.
He addressed students of the university's Sri Lanka Study Centre, where 17 Chinese students are learning the Sinhala language.
The Hindu