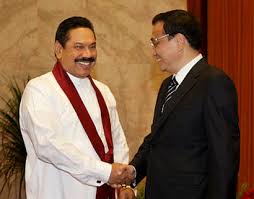 (Reuters) – China has offered Sri Lanka about $2.2 billion in loans for infrastructure projects and a free trade pact, the island nation said on Wednesday, moves that could stoke fresh unease in India about Beijing's expanding influence in its neighborhood.
Sri Lankan Foreign Minister G.L. Peiris, however, said the agreements with China including a separate one to enhance defense ties, should not be a cause for concern.

"But it's not at the expense of any other country, there's no danger to any other country," Peiris said in answer to a question on fears in India about China's deepening ties with Sri Lanka.
Peiris was speaking to journalists during an official visit to China by Sri Lankan President Mahinda Rajapaksa.
Located just off India's southern tip, the island of 21 million has become a visible front in the competition between the Asian giants, where mutual suspicion and commercial ambition have led to a race for construction projects.
China and Sri Lanka agreed on $1.5 billion in private-sector investment in the northern express highway, which links Kandy in the central part of Sri Lanka, to Jaffna in the north, Peiris said.
Officials from the two sides also agreed on the extension of a railway, the southern highway and the development of the port of Colombo, the country's capital, Peiris said.
Similar port developments from Myanmar to Pakistan have raised Indian fears about Chinese political and military influence, but Rajapaksa has rejected such concerns, saying China's presence in Sri Lanka is strictly business-related.
Sri Lanka's location astride an ancient and lucrative trade route in the Indian Ocean makes it of strategic commercial and military interest to Washington, New Delhi and Beijing.
That, some analysts theorize, makes it a prime part of China's so-called "String of Pearls" strategy to surround India and project its presence by setting up coaling stations under commercial auspices at port after port in the Indian Ocean.
So far, the weapons of influence have been financial: India and China have both funded huge chunks of Rajapaksa's $6 billion post-war overhaul of roads, railways, ports and power plants.
The loans offered by China to Sri Lanka, which were signed on Tuesday along with the other agreements, make up a "preferential bias" credit facility for infrastructure, Peiris said.
China and Sri Lanka have also agreed on cooperation related to defense, "defense-related training, logistics and maritime security, and have agreed in principle to establish a free trade agreement, Peiris said.
China has stood steadfast with Sri Lanka while it has faced international criticism including from Indian politicians for alleged human rights violations in the final stages of the war with Liberation Tigers of Tamil Eelam in May 2009.
HUMAN RIGHTS ABUSES
Asked about remarks by Britain that there would be "consequences" for Sri Lanka if its leaders did not address international concerns over the rights abuses, ahead of a Commonwealth summit scheduled to be held in Colombo in November, Peiris said that "the actions that we've taken in that area have been very, very substantial."
In mid-May, Britain's Deputy Prime Minister Nick Clegg told parliament "despicable human rights violations" had taken place in Sri Lanka.
"These are not things that can be done overnight, they take time, basically these are processes which have to move forward in accordance with the people's culture, their aspirations," he said. "These have to be homegrown, homespun solutions."
Tens of thousands of civilians, mostly Tamils, were killed in the final months of the war, a U.N. panel has said.
Sri Lanka has repeatedly rejected calls for an independent, international investigation into the accusations of war crimes committed during the conflict.
(Additional reporting by Terril Yue Jones; Editing by Sanjeev Miglani)
REUTERS