Foreign loans, grants committed in 2012:
June 4, 2013, 8:34 pm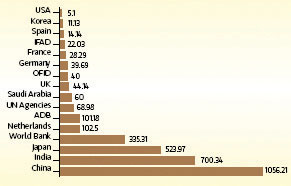 China emerged as the biggest lender to the government of Sri Lanka with loans amounting to US$ 1,056.05 million in 2012 with additional grants amounting to US$ 0.16 million and India became the country's biggest benefactor with grants amounting to US$ 257.28 million and the third biggest lender with loans amounting to US$ 443.06 million, data released by the Treasury showed.
Japan was the second biggest lender to Sri Lanka in 2012 with US$ 508.74 million and grants amounting to US$ 15.23 million.
With concessionary loans amounting to US$ 324 million, the World Bank came in fourth. It also provided US$ 10.49 million in grants.

The Netherlands came in fifth with loans amounting to US$ 102.50 million and no grants.
The Asian Development Bank was next with US$ 99.68 milllion. Saudi Arabia came in seventh with loans amounting to US$ 60 million.
The US, who sponsored resolution against Sri Lanka before the UN Human Rights Council in Geneva provided a US$ 5.10 million grant to the government.
The UK gave loans amounting to US$ 44.14 million.
Loans from Germany and France amounted to US$ 34.42 million and 28.29 million respectively with Germany throwing in a grant of US$ 5.27 million.
"Although the total commitments have slightly declined in 2011 in all types of financing compared with 2010 as commitments for financing some key development projects were made in 2010, they improved again in 2012. The total value of the foreign financing commitment made by development partners and lending agencies in 2012 was US$ 3,152 million of which project loans accounted for US$ 2,789 million and grant assistance accounted for US$ 363 million," the Treasury said in its latest annual report released last Monday.
"Out of the total commitments during 2012, 33 percent was made by China while another 22 percent was from India, 17 percent from Japan, 11 percent from the World Bank, 3 percent each from the Asian Development Bank (ADB) and Netherlands while the remaining 14 percent of the total commitments was received from other development partners and lending agencies," it said.
"The amount of concessionary loans in the annual loan portfolio has declined gradually from US$ 2,615 million in 2006 to US$ 1,475 million in 2012 while non-concessional financing has increased from US$ 260 million to US$ 1,677 million during the same period.
"Of the total foreign financing commitments in 2012, 71 percent amounting to US$ 2,226 million was earmarked for development of economic infrastructure mainly ports & shipping (26 percent), roads and bridges (22 percent), power & energy (11 percent) and air transport (11 percent).
"The external debt as at the end of 2012 is US$ 20.3 billion, an increase of about 10 percent over the last 10 years period. The external debt portfolio consists of US$ 13.6 billion (68 percent) as concessional loans, while the remaining US$ 6.7 billion (32 percent) is non-concessional loans including commercial loans," the Treasury said.
"The average interest rate of foreign currency denominated debt excluding Sri Lanka Development Bonds (SLDBs) increased to 3 percent in 2012 in comparison with 2.2 percent in 2011. An increase in loan flotation charges of major development projects funded by bilateral development partners and slight increase of LIBOR rates compared to 2011 are also contributed the increase in average interest rate on foreign loans.
"Out of the total outstanding foreign debt of US$ 20.3 billion, 3 percent will mature during the next three years, and 1 percent in next 3-5 years. About 26 percent will mature during the next ten year period from 2013 to 2022 and another 20 percent will mature during subsequent five year period commencing 2023. The remaining 52 percent will mature after fifteen years."
IS