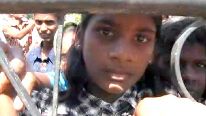 UN leaves war z one
Chamikara Weerasinghe
The Sri Lanka Army yesterday said the video of alleged extra judicial killings telecast by Channel 4 on British television is doctored and that its footage may have been invented by some self-exiled Tamil citizens seeking asylum in the UK.

Army spokesperson Major General Ubhaya Medawala yesterday said the supposed self-exiled group must have made some of these video clips to get the sympathy of UK immigration authorities to get refugee status in the UK.
"Their ambition is to become UK residents,"said Major General Ubhaya Medawala.
He said that seeking refugee status at the expense of the Sri Lankan government and the Army has been the practice of most Tamil civilians who have settled in the UK and other European countries.
Although they call themselves the Tamil Diaspora, they did not scatter to other countries on account of being dispelled by the Sri Lankan Army or the government, he explained.
"They leave the country for UK or Norway in most cases for the love of creature comforts in their settings and for this they have made it a habit of criticizing the Sri Lankan government and its security forces," he said.
Asked if the Sri Lankan Army is under pressure from various quarters to conduct investigations into Channel 4 clips, Medawala said the Army is not and will not be pressurized by any such calls, but is prepared to conduct an inquiry into such allegations provided that there is legitimacy and authenticity in the material provided to them to preceed with an investigation. "The authenticity of Channel 4 video has not been established," he said.
"Sri Lanka Army can conduct an inquiry but we need material whose authenticity could be established without personal evidence as to its ownership. We need an original copy of the file and the camera or the mobile phones that were used as a means to film them," he said. "If there was an original tape of the clips concerned , the owner of these could hand them over to us through a foreign embassy, or they can directly come to us," he said.
"Then we will be able to determine how they came to have been filmed , whether the footage of the video is genuine, and the case worth taking for investigation, said Major General Medawala.
Referring to the telecast of the video by Channel 4, he said Channel 4 is a private media channel and anyone can buy air time for a program after paying that channel.
"Besides,a paying party can obtain their service for a price," he explained.
"But we need material of proof and authentication to commence any inquiry," he added.
CDN