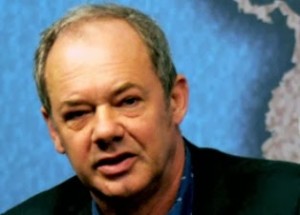 Callum Macrae
Controversial Channel 4 Film Director, Callum Macrae and 4 other journalists who arrived in Sri Lanka have violated Immigration rules by attending a press conference yesterday (12) organized by United National Party (UNP) as they have engaged in activities which does not relate to CHOGM and patriotic minded people are waiting to what action will be taken by security forces against them, reports Tiran Alles's newspaper 'Ceylon Today' today (13).

The Department of Immigration and Emigration which had issued instructions to all attendees, including media personnel, that they were prohibited from covering anything that was not CHOGM-related, deported New Zealand MP and member of the Green Party, Jan Logie, and Australian Senator, Lee Rhiannon, on 10 November, for not abiding by these instructions, the paper reports.
The newspaper further reports:
"Macrae produced four films for Channel 4 pertaining to alleged war crimes committed by the Sri Lankan Security Forces during the final phase of the war, and inviting him to the media briefing held by MP Mangala Samaraweera at the UNP Headquarters, Sirikotha, was bitterly opposed by UNP MPs and other members of the Party.
It was revealed that the invitation to Macrae to attend the press conference had been extended with the consent of the UNP Leader, Ranil Wickremesinghe and the Chairman of its Leadership Council, Karu Jayasuriya.
Those opposed to inviting Macrae claim he who had tarnished and disgraced the image of the country, internationally, being invited to the headquarters of the main Opposition Party in the backdrop of the Commonwealth Heads of Government Meeting (CHOGM) being held in Sri Lanka, is an attempt to further vilify the country.
The government, initially, strongly condemned the adverse report produced by Macrae against Sri Lanka and even warned that legal redress would be sought in International Courts. The government even demonstrated its opposition before the UN with a view to halting the exhibition of his films.
The UNP, as the main Opposition, had acted without taking into consideration the protests staged by the public when Macrae had arrived at the Bandaranaike International Airport, Katunayake and had as a result, incurred the wrath and displeasure of both the Party and the people, the opposing UNP group stressed. It is significant to note that India refused to even issue Macrae a visa, they further pointed out."
13 November 2013
SLM