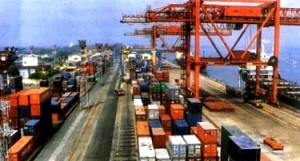 Cochin Port
The Cabinet's recent decision to relax India's policy on granting ships the right to operate in its waters ~ its "cabotage policy" ~ has Sri Lankan media crying itself hoarse over how this is India's latest attempt to punish Sri Lanka for seeking closer ties with China.
Government sources suggest that these Sri Lankan critics are correct.
On 6 September this year, the Cabinet decided to relax the cabotage policy under the Merchant Shipping Act of 1958 for trans-shipment of export-import (EXIM) containers to and from the International Container Trans-shipment Terminal (ICTT) at Vallarpadam, Cochin.

Based on this Cabinet decision, the government issued a Press release that said: "As per the Cabotage Policy, no foreign ship can engage in coasting trade in India (trade between ports in India) except under a licence from the DG (Shipping). This restriction is one of the main factors that discourage mainline foreign vessels from calling at ICTT, Vallarpadam. The primary objective of the relaxation in Cabotage Policy is for ICTT, Vallarpadam to attract cargo destined for Indian ports, which is presently being trans-shipped at Colombo and other foreign ports. This initiative is expected to promote trans-shipment of Indian cargo from ICTT, Vallarpadam and reduce dependence on nearby foreign ports."
The fact that the Colombo port expansion project has been awarded to China should be kept in mind while understanding this important policy change made by the government. Also, a major chunk of the Colombo port's business is from trans-shipment cargo coming from Indian ports. This Cabinet decision is likely to adversely affect Colombo port and Sri Lanka economically.
The Press release goes on to state that, "The Indian container traffic has seen a steady growth over the years. Despite this, more than half of the container traffic of India is being transhipped at ports outside India, mainly at Colombo, Singapore, Salalah and Jebel Ali. This is because India had no port near international sea routes to handle large mainline vessels. Cochin Port enjoys nearly the same location advantage as the Colombo Port with a mere 76 nautical miles deviation from the main East West shipping route.
"Therefore, in order to attract mainline vessels for trans-shipment of Indian containers at ICTT, Vallarpadam, the present relaxation in Cabotage Policy has been given. This relaxation in Cabotage Policy will be subject to review after three years."
India, which has been keenly watching Sri Lanka's growing economic ties with China, was not too happy with the Sri Lankan government awarding the Colombo port expansion project to China, according to sources in the government.
They said the recent Cabinet decision is India's quiet way of conveying a message to Colombo that it will not merely sit and watch while China tries to expand its regional influence.
The Sri Lankan High Commission in the New Delhi was asked by The Statesman for a response, but has not yet provided one.
simran sodhi
TS