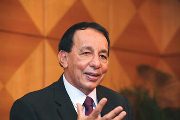 brother of president's wife
A massive cover up is underway to conceal and shield Chairman SriLankan Airlines Nishantha Wickramasinghe from being prosecuted for having in his possession an undeclared Rs. 4 million worth of currency both local and foreign.

Repeated attempts by The Sunday Leader to verify from Nishantha Wickramasinghe how he had Rs. 4 million worth of currency in his residence at De Saram Road, Mt. Lavinia failed as Wickramasinghe refused to come to the phone.
Police as well as top management at SriLankan Airlines also fought shy of revealing any details or providing explanations on how Wickramasinghe came to be in the possession of such a massive sum of undeclared currency stashed in his home when thieves broke in and stole the loot. Even the police spokesman SP Ajith Rohana, three days after the robbery, claimed he was unaware of such an incident when contacted by the media.
SriLankan Airlines CEO, Kapila Chandrasena declined to comment when asked if Wickramasinghe had recently been afforded a monthly remuneration package of Rs. 500,000 plus perks. "Please ask the Board Secretary," he pleaded, requesting that we leave him out of this controversy.
Board Secretary Ms. Melgrade Peiris maintained she could not divulge company information which is privileged.
Eight special police units have been deployed to search for the thieves who broke into Wickramasinghe's residence in Mt. Lavinia on June 7, and got away with Rs. 4 million worth of currency and a Rolex wristwatch valued at Rs. 4 million.
The 8 million rupee heist, according to highly placed sources in the police department, has resulted in 50 people being questioned, but the police told The Sunday Leader that they have no clues yet and no arrests have been made. However a massive police operation is underway but no investigation has been launched to prosecute Wickramasinghe who is clearly in violation of Exchange Control laws.
Controller, Exchange Control Department of the Central Bank P. H. O. Chandrawansa said that if a person retains foreign currency worth US$ 2,000 with him 90 days after returning to Sri Lanka from overseas it is a violation of the Exchange Control Act.