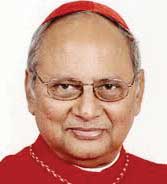 The Archbishop of Colombo, Malcolm Cardinal Ranjith on Tuesday, complained in writing to Inspector General of Police N. K. Illangakoon of police harassment directed at Catholics and requested him to particularly stop the harassment of the parishioners and the parish priest by the Avissawella police.
Malcolm Cardinal Ranjith has sent copies of his strongly-worded letter to the IGP to the Chairman of the Road Development Authority, DIG of Sabaragamuwa Province, Chief Engineer, Road Development Authority, Avissawella and OIC of the Avissawella police,
regarding the torching of a fiberglass statue of 'Mother Mary', which was placed on a bare land in front of the church of 'Mary, Mother of The Eucharist' Church at Avissawella, the only church in Sri Lanka, having a history of 150 years.
The Cardinal has also stressed the fact that the installation of the statue there had been done in accordance with the rules and regulations of the Seethawakapura Urban Council as the parishioners, together with the parish priest, had sought the relevant approval from the Mayor and it had been approved unanimously at a general meeting held in 2011.
However, the statue was set ablaze by some unknown persons on Jan. 27, the Cardinal has said.
Parishioners told The Island yesterday that the police instead of looking for the culprits were busy recording statements from the parishioners in a bid to ascertain how the statue had been brought there and who had funded it etc.
Asked whether there were any objections from any religious community in the area to the statue, they said five chief incumbents of the temples in the area had in writing condemned the attack on the statue and had expressed their solidarity with the Church to pursue with the project.
Parishioners said that they were puzzled by the manner in which the police were handling the matter.
by Madura Ranwala