(If Black Magic rituals and dashing coconuts could send Presidents home Mahinda would have been sent home in 2009, when parents and widows of those who disappeared in the North dashed coconuts against him at every kovil and temple seeking revenge)
Coconuts play a vital role in the politics of Mahinda Rajapaksa and his loyalists. They believe that fruitful results are emerging from the lakhs of coconuts they dashed into bits at kovils and temples against the government and its members ' Results are surfacing as an outcome of dashing coconuts', said Mahinda Rajapaksa having paid homage to the Temple of the Sacred Tooth Relic in Kandy. When he made that statement at the entrance to the Temple, Dr. Rajitha Senaratne was bed-ridden in a Singapore Hospital awaiting coronary by-pass surgery.
When Rajitha was airlifted to a Singapore Hospital, Mahinda loyalists used the social media to claim that their exercise in dashing coconuts against the government yielded favourable results. It was the same story that this group spread through the social media outlets when the Ven.Maduluwawe Sobhitha Thera passed away in Singapore.
When Minister M.K.A.D.S. Gunawardena also died, these Mahinda loyalists used the facebook and social media to state that Gunawardene faced retribution for what he (Gunewardena) did to Mahinda. When octogenarian politician Dr.WishwaWarnapala who had nothing to do with the past presidential poll passed away last week, Mahinda loyalists spread the same charge against him. So the Mahinda loyalists are of the view that Rajitha had to undergo by-pass surgery for having betrayed Mahinda. In the same trend, this group thinks it can topple the government by dashing coconuts.
During the Premadasa regime the then Opposition Leader Ms.Sirima Bandaranaike slipped and fell down the stairway at her residence in Rosmead Place. She was at that time in a depressed state of mind over differences with her son Anura.
She proceeded overseas for treatment for a long time and did not return to the political mainstream for a long time. She returned in a wheel chair. During the same period SLFP National Organizer, Anuruddha Ratwatte met with a serious accident while travelling from Kandy. He underwent surgery to one of his legs and was missing from the political scene for a considerable length of time. So the general belief among the SLFPers was that Premadasa had caused a Black Magic curse to fall upon them to destroy the SLFP. That belief became stronger when Lalith Athulathmudali, Gamini Dissanayake, Mahinda Rajapaksa and other SLFP stalwarts claimed that Premadasa had applied Malayali charmed oil on opposition benches in Parliament when Premadasa faced the impeachment motion from within the UNP. They even spread rumours that Premadasa had performed a Malayali Pooja in Parliament the previous night. Not stopping at that, these persons spread another rumour that Premadasa had got down Malayali Black Magic ritual specialists, got seven virgins to bathe him with milk to protect his Presidency. They went to the extent of organizing a newspaper campaign to state that virgin girls were missing in the country.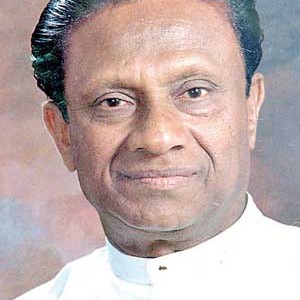 Whatever one thinks about the truth of these rumours, Premadasa was a believer in Black Magic rituals. He also believed in astrology. That never meant that he performed Black Magic rituals on the SLFP. Whatever Premadasa may have reportedly done, he was not able to save his Presidency and life. Taking the country by storm, Velupillai Prabhakaran killed Premadasa using a suicide bomber. Mahinda Rajapaksa's belief in Black Magic rituals and astrology is deeper than that of Premadasa. Mahinda even chose his doctor with such a background. Premadasa never had a Royal Astrologer. But Mahinda had one. Mahinda feared being killed. When Astrologer Chandrasiri Bandara predicted a tragic death for Mahinda, the latter took him into custody. Unlike other leaders in this country, Mahinda carried a Black Magic ritual ball in his hand wherever he went.
Even the international media gave wide publicity to Mahinda's belief in Black magic and that practice. Rumours spread that Mahinda had got down Malayali Black Magic ritual specialists to perform charms on Chandrika and the UNP. Since Mahinda was blinded by his strong faith in astrology and black magic rituals, Anoma Fonseka started coconut smashing at Temples to get her husband Sarath released from custody. Mahinda could not bear or tolerate this practice of Anoma's. However, nothing bad happened to Mahinda and he continued in the Presidency for nearly a decade. His predecessors, J. R. Jayewardene and Chandrika ruled a year more than Mahinda in their respective terms. If Mahinda did not go for an early Presidential Election he would have still been the President. He called an early election on the advice of astrologeRs Though he carried that Black Magic ritual ball wherever he went it did not work his way. However much he placed his faith in Black Magic rituals and astrological predictions, he was unaware that his own party's General Secretary would emerge as his rival candidate.
Mahinda was destroyed by black magicians and astrologe Rs It is surprising that Mahinda is reverting to those beliefs again to return to power. The demise of Sobitha Thera is disadvantageous to Mahinda. If the Thera was alive he would have organized the people against certain actions of the Yahapalanaya today. The Thera attacked Yahapalanaya until he passed away, pointing accusing fingers at many failures. He had no political party to support. Sobhitha Thera raised his voice from 1977 to topple the then UNP government. When Chandrika became Prime Minister in 1994, she first drove to the temple of Sobhitha Thera. When Chandrika started to tread on the wrong political path, Sobhitha Thera who sweated 17 years to topple the UNP again paved the way for the UNP to come to power. Had the Thera lived he would have been the first person to step onto the road against the Yahapalanaya government. Mahinda and his loyalists failed to understand that reality.
Instead they drank Champaign on the day of his funeral. Sinners cannot be turned into saints. This is a fact that is applicable for Mahinda loyalists who fail to place faith in the people and run behind black magicians and astrologer.
A three-wheeler driver asked, 'Sir, did Anton Jones and Ajantha Ranasinghe die because Mahinda loyalists dashed coconuts?' Yes…that question had a meaning. When Mahinda called an early presidential poll, Sobhitha Thera was hospitalized. The Thera fell sick in the face of intimidation and threats made by Mahinda and Gotabhaya to silence him. The Mahanayake of the Asgiriya Chapter Most Venerable Udugama Sri Buddharakkhitha passed away before the death of Sobhitha Thera. Maithri had just taken office as President when Buddharakkhitha Thera passed away. He never engaged in politics. The Mahanayake Thera was sick and died due to old age.
If Black Magic rituals and dashing coconuts could send Presidents home and topple governments, Mahinda would have been sent home in 2009, when parents and widows of those who disappeared in the North dashed coconuts against him at every kovil and temple seeking revenge.
– Courtesy Ceylon Today