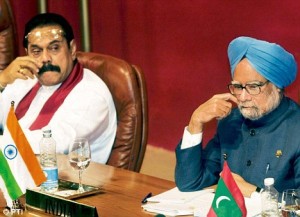 President Mahinda Rajapaksa and Prime Minister Manmohan Singh-pic: PTI
Col. R. Hariharan
President Mahinda Rajapaksa is well known for wrongly timing his foreign visits. In the past his India visits were more successful than his European sojourns because they were diplomatically 'tenderized' in advance to avoid any embarrassment to the President.

His two-day 'pilgrimage' trip, with an entourage of 70, to Tirupati and Gaya after a stopover at Chennai that ended on February 8, 2013, 'pilgrimate' visit was also probably tenderized in advance. But this time, it completely failed for two reasons.
The first was the unusually strong and well orchestrated protests organized across India against his visit over allegations of war crimes and genocide. For some time now, Rajapaksa's hardening stand on the ethnic issue, coupled with the increasingly authoritarian style of functioning has not endeared him to the minorities. Increasing anti-minority activities of Sinhala chauvinist elements particularly against anti-Muslim activities have added to their nervousness. Collectively these developments offered a wonderful opportunity to anti-Rajapaksa and pro-Eelam lobbies in Dravidian parties of different alphabetical prefixes in India to raise their voices against his visit in high decibel.
The significance of the Communists as well as the as the Bharatiya Janata Party (BJP) backing the anti-Rajapaksa protests should not be missed. In a belated move, the Congress party also added its bit to this sentiment. Perhaps for the first time, nearly all political parties seem to be realizing the importance of the issue at the national level.
The second was the President's statement ruling out autonomy to Tamils three days before his visit which enabled anti-Rajapaksa protestors to gleefully point out "we told you so." This ill timed statement beefed up the protestors.
Clearly New Delhi was extremely uncomfortable with Rajapaksa's visit particularly after he ruled out granting any political autonomy to Tamils of the North to resolve the political gridlock over devolution of powers in his independence day speech at Trincomalee on February 5. He said, "It is not practical for this country to have different administrations based on ethnicity. The solution is to live together in this country with equal rights for all communities."
This statement ripped off the last vestige of credibility in New Delhi's Sri Lanka policy. Implementation of the 13thamendment in full as promised by him had been the only hope for New Delhi's ruling coalition to save its face so far. It not only to kept its Dravidian partner DMK satisfied, but also saved a bit of Congress leaders' reputation already tarnished in Tamil Nadu. The Congress party was not amused by Rajapaksa's statement; this was evident from the Congress President Ms Sonia Gandhi's January 30, 2013 reply to DMK leader Karunanidhi's letter on the failure of Rajapaksa to live up to his promises. She said: "I share your concern regarding the disturbing developments in Sri Lanka vis-a-vis the Tamils. I shall take up the matter with the Minister of External Affairs (Salman Khurshid)."
So it was not surprising that Manish Tiwari, Union Minister for Information and Broadcasting, made an unusual comment on the anti-Rajapaksa protests on the day of the President ended his visit. He said "We understand the sensitivities which are involved with regard to the issue of Sri Lankan Tamils, especially in Tamil Nadu. We are absolutely in sync with some of the concerns which have been articulated…"
His further noted that India had walked the 'extra mile' at the United Nations Human Rights Commission (backing a resolution against Sri Lanka) and engagement with Colombo "in no way means that we are insensitive or we tend to undermine the concerns, which a section of the population of India, may legitimately have."
Not to be outdone, V Narayanaswamy, Prime Minister's points man and Minister of State in the PMO, did not mince his words on India's likely stand at the forthcoming UNHRC session on the issue of Sri Lanka's accountability. He said:"When the UN brought forward a resolution against Sri Lanka, India voted for it. If UN's recom-mendations are not honoured by Sri Lanka, India will support any resolution brought by it against the island nation."
President Rajapaksa invariably met with the Indian Prime Minister 'informally' during his non-official visits in the past. Prof GL Peiris, Sri Lanka minister for external affairs, met with Indian Prime Minister Dr Manmohan Singh when he was in New Delhi to attend the 8th India-Sri Lanka Joint Consultative Commission (JCM) meeting on January 22, 2013.
Sri Lanka needs India's support during the forthcoming session of the UN Human Rights Commission in Geneva in March 2013. It cannot afford to take India's support for granted anymore after it "betrayed" (as some of my Sri Lankan establishment friends termed it) and voted for the U.S. resolution seeking accountability from Sri Lanka. In this context,an informal meeting with the Indian Prime Minister would have been useful to Rajapaksa to put across Sri Lanka's case for support.
So it would be reasonable to assume that Prof Peiris probably tried to arrange such a meeting when he met Dr Manmohan Singh. We do not know whether he did so. But such a meeting never came through because Rajapaksa neither visited New Delhi nor met anyone of importance except Alok Joshi, the chief of the Research and Analysis Wing who called upon him at Tirupati after Rajapaksa's Darshan of Balaji. So either Rajapaksa's visit was intended only as a pilgrimage or New Delhi wanted to send a clear signal to Rajapaksa of its growing disillusionment with him.
Three senior U.S. officials – Deputy Assistant Secretary of State James Moore, Deputy Assistant Secretary of Defense Vikram Singh, and Deputy Assistant Secretary of State Jane Zimmerman – visiting Colombo last month to assess the progress made by Sri Lanka on implementing the LLRC recommendations. At the end of it they gave notice that a 'procedural resolution' aimed at "pushing Sri Lanka" to address human rights concerns would be submitted at the next UNHRC meeting. This has set the dovecotes of power in Colombo in a tizzy.
If we go by the comments of the American visitors it looks doubtful whether Sri Lanka would be pushed to the wall. They said, "Certainly we have seen progress in infrastructure development, demining, rehabilitation and the release of former combatants. However there are still families who feel that their loved ones are being held somewhere. There is a desire for accountability with regards to extra judicial killings. Therefore there is a need for accelerated implementation."
Last month the visiting British Foreign and Commonwealth Office Minister for South Asia Alistair Burt had also expressed similar assessment of the work in progress in Sri Lanka's post war recovery. He said that he was pleased to see the post-war recovery process in Sri Lanka, though challenges remained.
These comments are almost the same as those made before the last UNHRC meeting when the U.S. sponsored resolution was passed. However, this time around the U.S. and British statements would indicate they would not go beyond what was done at the last UNHRC. So for all practical purposes the U.S. 'procedural resolution' would probably be a tepid one, reiterating all that was said earlier giving Sri Lanka yet another opportunity to save its face by buying time.
Can India accept this situation in an increasingly embarrassing political atmosphere in which it has been placed by President Rajapaksa?
The political logjam building up in Tamil Nadu over New Delhi's passive response in the past is unlikely to allow New Delhi to continue with business as usual as far as Sri Lanka is concerned. So New Delhi will have to take a nuanced approach in handling Rajapaksa.
Under eight years of President Rajapaksa's leadership Sri Lanka is full of 'mores'. It has become more inward looking, more authoritarian, more worried about the dead LTTE rising up again and more paranoid about foreign influence threatening its freedom. On the whole, the country looks less confident of itself and the leader less sure than they were when they went to war against the LTTE.
The reason for this mess is simple. Rajapaksa is one of those political leaders who thrive on conflict situations because they see themselves as the slayer of the dragon on a white horse. A man blessed with uncanny ability for political manoeuvres enjoying nationwide popularity in the wake of his military victory, he could have helped Sri Lanka become a free, happy and peaceful democracy where the majority and minority worked together. But he has chosen to be different. An oligarchy is being positioned to rule the country with key reins of power in the hands of his immediate family. He is supported by a political class that respects only power and not propriety or people.
As a result Sri Lanka has become a land of contradictions. Pious affirmation to the Constitution goes hand in hand with the ditching of constitutional amendments to ensure transparency and integrity. Talks of freeing the people from the tyranny of Tamil Tiger terrorism goes on even as goons intimidate opponents and media staff. Rule of law is quoted even the highest officer of judiciary is impeached through a suspect process. Political horse trading has been replaced by political killings as criminalization politics has gained upper hand.
So subtle back room persuasions adopted by India so far are unlikely make headway anymore. It would be better for India to spell out in unambiguous terms its increasing concerns at the way things are being done in Sri Lanka.
For starters such a statement made at the highest level should include:
• Non implementation the 13th amendment in full as promised, although it is still figures in the Constitution. Remind Sri Lanka that it is imperative to do so as it forms part of the Indo-Sri Lanka Agreement which is still in force.
• Expression of India's concern at the slow progress made in implementing rehabilitation projects financed by India in war ravaged areas to speed up the process.
• Expression of India's serious concern at Sri Lanka's tardy and selective implementation of the LLRC recommendations which could affect India's tradition support to Sri Lanka at UN forums.
• Need for adopting non-discriminative trade practices on Indian business to enable the Indo-Sri Lanka Free Trade Agreement to encourage further Indian investments with an assurance to improve facilitation for such a growth at the Indian end.
• Kick start the stalled political reconciliation process with Tamils by evolving a game plan with a clear schedule of action. Emphasize India's readiness to assist in this respect.
Then only Rajapaksa would understand that New Delhi has ended its futile exercise of running with horses and hunting with hounds on complex issues affecting India-Sri Lanka relations which are getting out of hand. And the people on both sides of Palk Strait would understand that India means action now and refuses to be a pushover anymore.
Of course, the $64 million question is would India do it?
Should not the national parties take it up rather than leaving it to Dravidian parties to keep the limelight on this issue?
(Col R Hariharan, a retired Military Intelligence specialist on South Asia, is associated with the Chennai Centre for China Studies and the South Asia Analysis Group.