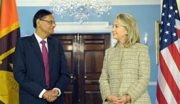 The government's action plan on implementing the Lessons Learnt and Reconciliation Commission's (LLRC) recommendations, that was presented to the United States includes a Cabinet-level Committee to monitor its progress, sources said.

The Committee is expected to submit periodic short-term, medium and long-term reports, which will also be shared with the international community.

The action plan lists out 16 categories under which recommendations are made, including reconciliation, land matters, language, education, religion, refugees, internally displaced people, resettlement and financial compensation.

Sri Lanka has also pledged to the United States that the implementation of the resettlement and development related recommendations would be coordinated and supervised by the Presidential Task Force on Resettlement, Development and Security, headed by the Secretary to the President Lalith Weerathunga.
These pledges were made during External Affairs Minister, Prof. G.L. Pieris's meeting with US Secretary of State Hillary Clinton, and have not yet been made public in Sri Lanka by the government.

The United States called on the Government of Sri Lanka to translate both the LLRC report and the action plan to Sinhala and Tamil and make the documents public.
The LLRC report contains 135 main recommendations to be implemented, and the government presented an action plan on the implementation of those to the United States, after a US-backed resolution was adopted in March this year at the United Nations Human Rights Council.

Sri Lanka has refused calls for a war-crimes probe by the international community, and has maintained that no human rights violations were committed during the final phases of the war in 2009.
Colombo pitched the LLRC report as a home-brewed mechanism for addressing accountability and reconciliation issues, but the report has since been called 'inadequate' by rights bodies and some foreign governments, including the United States
By Dinidu de Alwis
CT