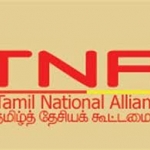 By ignoring the restorations of ruined Hindu, Christian and Islamic worship centers, by constructing new Buddhist Temples in the north and east will not originate ethnic harmony.
If actual harmony should be prevailed between ethnic communities, in all issues equal distribution is needed was urged by Vanni district Tamil National Alliance Member Selvam Adaikalanathan yesterday in parliament.
Regarding ten senior minsters and the financial allocations for 22 ministries were scrutinized at the selective committee level debate, and Selvam Adaikalanathan made this statements.

He further said, the Tamil and Muslim people are radically affected in the Vanni district. All should be granted relief. Under the Indian housing scheme, houses are granted in Mannar. Out of this 256 houses are allocated for Muslim families and 124 houses for the Tamil families. Due to this reason, people are on hunger protest.
When reliefs are granted the interferences from politicians and ministers should be hampered. Governor is functioning as a Muppet shaking his head for the minister. This has created turmoil amidst the people.
Therefore without the interfervene of politicians, relief should be distributed equally.
20 temples, 15 churches and a large quantity of mosques have been destroyed in the Vanni district. Whether government is considering that the respective religious persons should restore them.
Government without restoring the affected worship centers, are constructing new Buddhist temples. In such a situation, how could harmony emerge between ethnic groups?
Similar to ethnic problem, religious problem has exploded vastly. By instigating religious hatred, the government is now creating clashes between religious groups.
One of the Ministers who spoke in this house said, Christian churches are attacked in the southern area.
If such happenings are occurring in the southern part, what sort of problem we will be facing in our areas, is not a necessity for us to state here. The government should take this into its attention.
He said, the Church of Madhu which was drastically affected during the war period, should be declared as a scared land