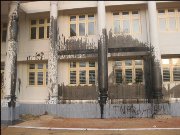 The colonial military administration of Colombo on Wednesday allegedly deployed its 'white van squad' to pour crude oil on the new building of Valikaamam South (Chunnaakam) civic body before it was scheduled to be declared opened by the Tamil National Alliance (TNA). The colonial military governor of North, Maj Gen (retd.) G.A. Chanadrasiri has been demanding that it should be he who should decide on the inauguration of the building. However, the building was declared opened as scheduled by T. Prakash, the head of the civic body of Valikaamam South. The grassroots politician of the TNA also declared that the office would start to function from Thursday in the new premises.

A fifteen-member squad that came in 'white vans' entered the premises in the early hours of Wednesday, around 2:00 a.m., and attacked the two watchmen present there. The attackers tied the hands of the watchmen and assaulted them pouring crude oil on their heads. Then, they went on pouring crude oil on the front side of the three-storey building.
The crude oil on the walls of the civic body graphically symbolizes not only the Sri Lankan militarization of civil affairs in the country of Eezham Tamils, but also the resistance shown against it, grassroots activists in Chunnaakam said.
Recently, three new buildings were raised for the civic bodies of Valikaamam South (Chunnaakam), Valikaamam South West (Maanippaay) and Themaraadchi (Kodikaamam) divisional councils (Piratheasa Chapai) in the peninsula.
The buildings were being raised with international assistance.
The SL military governor of North was exerting pressure on the contractors of the buildings to hand over the buildings to him for deciding the inauguration.
The complex of Thenmaraadchi (Kodikaamam) Piratheasa Chapai was handed over to the SL governor by the contractor. EPDP paramilitary leader and SL minister Douglas Devananda declared the building opened. Most of the elected representatives of the TNA had boycotted the ceremony.
In the meantime, Mr Prakash, the head of the civic body in Chunnaakam, declared that the elected representatives of the people should inaugurate the new complex situated near Maruthanaarmadam junction on KKS road.
As the TNA politician threatened with legal action demanding access to the building, the contractor handed over the building to the elected civic body.
http://www.tamilnet.com/art.html?catid=13&artid=35491