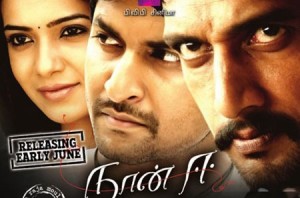 Tamil People deprived of their film
Secretary of Ravana Balaya, Innekande Saddhatissa Thera threatened to stop the screening of films starring Tamil Nadu actors such as Vijey, Kamal Haasan, Sarath Kumar or Rajanikanth, saying "We will not say it unless we can actually do it." The Thera made his sentiments known at a meeting with Chairman of the National Film Corporation, Asoka Serasinghe, yesterday.
Ravana Balaya handed over a letter to Serasinghe over a month ago, wherein they had expressed their opposition to the import of Tamil Nadu films.
"A State institution is incapable of sending an official reply to a letter, that raises issues about Sri Lanka's miracle," the Thera said, adding, "At a crucial juncture when the Tamil Nadu State Government is seeking legal recourse to acquire the Kachchatheevu Island, we too should show we are Sri Lankans." The Thera requested the public to seek his organization's assistance, if a State institute delays attending to their needs, and promised to intervene on behalf of the public.
"On 1 May, Vasudeva Nanayakkara who is a minister of the government, made and announcement for the whole world to hear that the Security Forces personnel in the North are excessive in numbers. Was that a fair announcement? Is Vasudeva asking the Forces not to stay in the North, and to stay in his house?" the Thera questioned.
Meanwhile, Film Corporation Chairman, Asoka Serasinghe, said he has already taken measures to respond to the letter sent by Ravana Balaya, and agreed that he was also of the view that films starring Tamil Nadu actors should not be screened in Sri Lanka. However, he said it was not his decision to make. If any requests are made, he will discuss them with the minister and arrive at a decision, Serasinghe said.
Ravana Balaya demanded a written statement from the Film Corporation Chairman and threatened not to leave the Corporation premises until they receive one. They waited for half an hour and collected the letter. A massive police contingent was deployed around the Corporation during the meeting.
CT