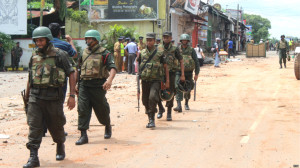 A war zone? Waliweriya under military
Ranga Jayasuriya
On Thursday, before the Army turned its guns on the public, a senior military official, who was commanding the troops there, delivered a stern message to the media crews, which had been covering the protest.
"Get out. Don't take photos. You are not wanted here," he said in an intimidating voice. The soldiers, armed to the teeth, stood next to him. Hours later, a contingent of battle hardened troops, who once formed the 'fabled' 58 Division, went berserk in the town, killing one teenager and wounding 30 others.

Journalists, who refused to leave, later had to flee for their lives. Soldiers liberally took aim at them. Some soldiers later swapped rifles for clubs and went around thrashing the public. Journalists were clearly singled out, a female provincial correspondent hid on a roof to evade the marauding soldiers. A photojournalist was assaulted and later hospitalized. The military confiscated the microchips. Cameras were smashed in the hullabaloo.
Journalists, who were at the scene said the attack on the press was clearly orchestrated. The Army did not want to leave evidence – and soldiers had been ordered to take on the scribes and their cameras. The majority of the media crew at the scene was provincial correspondents, and were far more vulnerable to military intimidation.
Newly-appointed Commander of the Army, Lt Gen Daya Ratnayake, has now ordered an inquiry into the military handling of the incident and resultant death and injuries.
Media rights groups have condemned the military attack on the scribes and public and called on the government to bring perpetrators of military violence to justice. Media personnel were singled out during the attack, Sri Lanka Working Journalists' Association said, quoting journalists, who had been assaulted by the army.
"Prior to the attack, a senior military officer, who was commanding the troops deployed in Weliweriya warned the media personnel to vacate the scene. Journalists were warned against taking photographs and videoing the incident. They were warned with repercussions should they not comply with the military instructions," it said.
"The entire episode highlighted the danger of State orchestrated militarization in our society," SLWJA added. "We believe the perpetrators of this attack and many other previous attacks should be brought to justice, in order to bring an end to the prevailing climate of impunity in the country, which fosters further violence against media and the vulnerable sections of the public," it added.
The Free Media Movement said the military had used excessive force, which resulted in the death of a 17-year-old student and wounded nearly 30 others.
FMM noted the media personnel had been victims of the military, which used brute force against the public and media.
FMM noted the public have taken to the streets demanding clean drinking water, and noted the use of violence against protesters is extremely disturbing and gives reasons to suspect the government's democratic credentials.
COURTESY:CEYLON TODAY/DBS