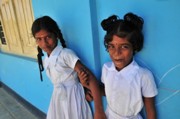 Public awareness and advocacy
can help save young children
By Amantha Perera
– It was the ghostly silence that struck him hardest as he walked through the Colombo suburb of Kirulapone the day after the lifeless body of a six-year-old girl had been discovered floating in a filthy canal, Kumar de Silva, a well-known local media personality, told IPS. The autopsy report later revealed that the child had been raped by a 16-year-old relative and his two friends, and then dumped in the canal, where she drowned.

"It was a ghost town, as if nothing had happened," de Silva told IPS. "I just could not take the silence any longer."
The little girl's body was recovered in the midst of a spell of similar tragedies. Last month six men including a local politician raped a 13-year-old in the southern town of Tangalle, while a 14-year-old girl was repeatedly raped for two consecutive days in another southern town called Akuressa.
De Silva, disturbed by the events and the silence that followed them, took his grievances to the realm of social media, writing on his Facebook wall, "No to rape, no to child abuse."
Soon he had received hundreds of comments and he turned his wall post into a separate page, which has now attracted hundreds of followers who chronicle reports of rape and abuse.
De Silva has also been trying to mobilise media and his colleagues to speak out. "I am doing this as a concerned father and a citizen. I want to inspire and provoke people to shout," he said.
Diarietou Gaye, the Senegalese-born country head for the World Bank in Sri Lanka, could not take the silence either.
After numerous conversations with her staff, Gaye took a very unusual step for a representative of an international donor agency – she went public and aired her views on her blog.
"It is about time people start talking about it at work, in the neighbourhood, in school, in religious institutions and in any public or private fora and denounce this degrading act of violence," Gaye told IPS, pointing out that in most cases children were attacked by people known to them, by adults who were supposed to protect them, such as relatives, employers and school teachers.
Just three days after her first blog post, police arrested an 80-year-old man who worked as a caretaker at an orphanage in the central town of Mawanella on charges of abusing 15 underage girls. All the victims were below the age of 15 years.
But these are just two instances where ordinary citizens have stepped out of their comfort zones to take on the ugly issue of rape and abuse.
Despite reports that incidents of rape, especially abuse of minors, are on the rise – police spokesperson Ajith Rohana said that over 700 cases had been reported by mid-2012 – many feel that the public has been lukewarm at best, complicit at worst.
"I think Sri Lanka has been conditioned to be immune to violence after 30 years of war," Dilrukshi Handunnetti, a lawyer and writer, told IPS.
It is a view that is shared by the young and old alike, spanning a diversity of race, gender and religion.
"I feel that in Sri Lanka, our collective silence is by no means limited to the issue of rape alone. We, as a people, prefer to be blissfully ignorant and ever resilient, irrespective of the issue. The culture of 'people power' or mass mobilisation clearly missed our shores," Marisa de Silva, a post-graduate student, told IPS.
Handunnetti, who has worked with Transparency International on advocacy issues and regularly takes part in human rights discussions, told IPS she felt that most Sri Lankans seemed programmed to 'shut down' when confronted with the topic of sexuality.
"Even at human rights discussions, matters relating to sexuality just fall off the table, no one wants to talk," she said.
Such ignorance – and a refusal to grapple with the truth – can be devastating.
In Sri Lanka's northern region, which is only just now opening up after three decades of civil war that only ended in May 2009, there is an increase in teenage pregnancies, Saroja Sivachandran, head of the Jaffna-based Women and Development Organisation, told IPS.
The organisation has recorded over 400 cases of teen pregnancies and received over 300 reports of rape in the northern region for this year alone. She believes lack of knowledge is the primary reason that leads to abuse.
"These girls and even the boys are naive, they don't know what is out there, but with the war ending, the outside world has crashed into their lives. We have to tell them what is good and what is not," she said.
De Silva admits that a blog or a Facebook page has limited impact in Sri Lanka. "We have to reach out to the regions where these things are happening, we have to somehow get our people to talk and report on this," he stressed.
Sporadic protests have been held in Colombo and throughout the suburbs, while a group of activists are planning to write to President Mahinda Rajapaksa, highlighting the issue and seeking a meeting.
But as Sivachandaran pointed out, given the magnitude of the problem, the reaction of the masses has been "woeful".
At least in cyber space, the public verdict has been clear – 60 percent of participants in web surveys carried out by Lankadeepa, a Sinhala newspaper, and the Derana media group, believe that convicted child rapist should be given the death penalty, even though the death sentence is not carried out in the country.
De Silva told IPS that change will take time and will be laboriously slow. "But the more we talk, the more people will be aware and perpetrators exposed."
World Bank's Gaye feels that if a strong-willed leadership is at the mantle of any movement, it will take off, but will succeed only if a majority of the island's citizens take note.
"To make a change, you need strong political will and leadership, which is evident in some parts of Sri Lanka," she said, hastening to add, "if Sri Lanka is serious about becoming the Miracle of Asia, it needs to protect its people and it is the responsibility of each and every Sri Lankan to make sure that this happens."

Photo caption: Public awareness and advocacy can help save young children from sexual predators. Credit: Amantha Perera/IPS
– IPS