Image: A Brandix apparel factory in Sri Lanka; Courtesy: Brandix.

Health authorities believe the first reported Covid-19 infected worker from the Brandix factory in Minuwangoda may have contracted the virus from another source. It is believed there may have been infected persons in the factory before she tested positive. Here is what R. M. P. H. Rathnayaka, an employee from the Minuwangoda Brandix facility who was detected Covid-19 positive had to say:
I faced many insults. If you ask anyone from my area they will tell 
you about me and my family. 
There was a slot of mudslinging against me
"On September 28 I had a headache and rested in the treatment-room. Before this many employees had shown flu-like symptoms. The company maintained they had influenza, and treated them for flu, cough and cold. I was also treated on this premise. I worked for three days, and on September 30 around 9.30 or 10 am I developed chest pain and felt faintish. Two of my co-workers took me to the restroom.
That is all I recall. I felt faintish and my chest was paining and I couldn't bear it any more. The nurses in the rest-room prescribed some medicine, saying it might be gastritis. I told them it was not a gastric pain and that my chest was paining. After a little while, my throat and mouth began to ache as well. I asked them to take me to the hospital. So I was admitted to the Gampaha Hospital where they recorded all my information. The company nurse left me at the hospital.
"Then my husband and my sister came to see me. My husband took me to get the relevant tests done. After that, I was transferred to Ward 14 of the hospital. There were only men in that ward. I was the only woman there. The nurses and doctors in that ward inspected me from time to time. On October 1 they did a PCR test on me. The next day, on October 2, the hospital's main doctor came and told me I had been discharged. I asked whether the PCR test report had come. They said there was no problem and that I was having a case of pneumonia. They gave me a medical report, saying I could produce it anywhere. After that, we got medicine from the OPD and came home by 2.15 pm. We travelled in our own vehicle and did not get off anywhere. After we reached home we didn't step outside. The next evening an intelligence officer came and informed me that I had contracted Covid-19.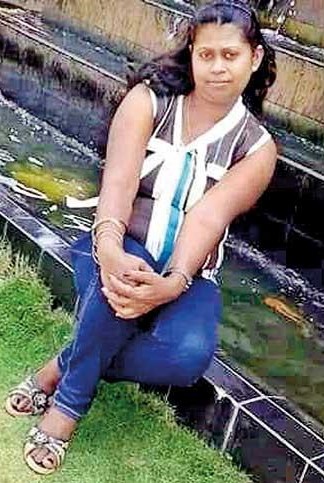 "At work, I had a fever. I even fainted at work. But they did not care about us. As I understand, the management is to be blamed for this, not the apparel factory. I learned later that a senior officer had scolded and criticised me for being hospitalised for chest pains, claiming there were shipments pending. I am very disappointed at this behaviour by the management. The senior officers we had earlier had never spoken like this. If they heard a worker was unwell, they would ask about us and help us get the necessary treatment. But the current management only wants to get work out of us.
"I now feel through good fortune I was able to save my country. If I had not got a chest pain like this, some workers might have even died on the factory floor, there were so many who fainted.
When workers fainted, they just sprinkled water on their faces and got them to work again. They were allowed only a five-minute break. If not, a message was sent requesting to report back to work.
"On September 25, a small function was planned for the company's Executive Officers in a hotel in Seeduwa. On September 26, a band of musicians were brought to the company and a function was organised for apparel workers from 3 pm to 6 pm. I didn't even attend that gathering. I went home after work."
 Q   Did a group of people visit from India?
"The thing is I honestly do not know whether they were from India or not. People often visit this place. So I do not know for certain whether they were from India. People come and have discussions with senior officers. They come to test samples. Three people came. But I do not know for sure if they were from India.
"My section sews orders to be sent to India. They came and checked samples. I did not speak to them. They spoke with our inspectors. They examined the clothes and showed some defects and discussed what needed to be done. They came two weeks ago, that is either on September 17 or 18."
 Q  Are you getting any support from the company in the quarantine process?
"I am currently in the IDH hospital. As far as I know, the company has not done anything. First, I was kept in a separate ward. Only later I got to meet my co-workers. I noted down what was lacking and gave it to the hospital staff to get what was needed. The company did nothing for us. There are workers without enough clothes to wear. I wrote a note seeking some relief for them.
"I faced many insults. If you ask anyone from my area they will tell you about me and my family. There was a slot of mudslinging against me. According to the information I have, a group from within the company is behind the social media mudslinging campaign unleashed against me. But without solid proof, I cannot point fingers at anyone.
"Actually, the apparel company is like a home to me. That is where I earn my living. I do not blame the company. I blame the company management. I am now in this hospital. I have only two sets of clothes here. It was the hospital staff who gave me at least a face towel. We were brought here so suddenly. We could not bring anything else with us."
Nishatha Kumara Bandara/Daily Mirror