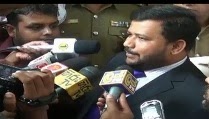 Minister speaking to press after the raid
A mob led by the Bodu Bala Sena (BBS) stormed Minister Rishad Bathiudeen's Ministry of Industry and Commerce saying they were looking for the venerable Watarekke Vijitha thero.
Ministry officials said that after staging a protest outside the building some of the protesters led by a monk went inside and searched the rooms.
The General Secretary of the BBS, the venerable Galagodatte Gnanasara thero did not take part in the protest at the time and Minister Rishad Bathiudeen was also not in his Ministry.
Deputy Minister Lakshman Wasantha Perera who was at the Ministry at the time, assured the BBS that the the venerable Watarekke Vijitha thero was not in the building.
The mob eventually left and there was no damage caused by the mob to any property inside the building, Ministry officials added.
The Bodu Bala Sena has accused the venerable Watarekke Vijitha thero of working with Minister Rishad Bathiudeen to illegally settle several displaced Muslims in the Wilpattu national park.
Recently the Bodu Bala Sena has also stormed the venue of a press conference organised by the venerable Watarekke Vijitha thero on the Wilpattu issue and threatened the monk and a Muslim cleric. (Colombo Gazette
In 2011, Thailand's Culture Ministry said foreign tourists in Sri Lanka should be barred from getting tattoos of Buddha during their holidays because the practice was culturally insensitive.
And R&B star Akon was refused a Sri Lankan visa in 2010 and had to apologise to Sri Lankan Buddhists after his video for Sexy Chick, which featured a pool party in front of a Buddha statue, caused an offense and national protests