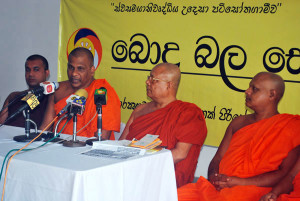 Bodu Bala Sena once offered take up police duty to enforce the law and rid Buddhism of thieves, rapists and other criminals
While discussing a number of problems pertaining to Buddhist temples, priests and the practice of the Buddhist religion in the country overall, one of the main points of the conversation revolved around some of the ongoing disputes between some Muslim and Buddhist groups.
Referring to the various messages that have appeared in the media recently, President Rajapaksa requested the group not to engage in any activities that would be seen as promoting communal hatred.

The five priests at the meeting, including the head priest Kirama Vimalajothi Nayaka Thero, Galagodaaththe Gnanasara Thero and Vitharandeniye Nanda Thero, informed the President that there are duplicate groups that claim to represent Bodu Bala Sena and use the name for their own purposes. The group reassured President Rajapaksa that they do not condone insulting other religions.
Provincial council minister Udaya Gammanpila, who further detailed the problem with duplicate groups, reiterated the importance of inter-religious harmony. Condemning the recent incident that insulted the Islamic religion with the photograph of a swine, Minister Gammanpila said, "Just as we love our religion, they love their religion."
Priests form the Bodu Bala Sena added that they too do not condone such behavior. Referring to the protest in front of the Nolimit store in Maharagama, one of the Buddhists priests said, "We said don't do it. It's not good for Buddhism or the country. Let's fix problems within our own religion. Let's learn from the Muslim community and their discipline."
For several questions that arose pertaining to the Halal certification, President Rajapaksa and Economic Development Minister Basil Rajapaksa outlined in detail the Halal certification process and the reasons for its use by businesses.
Before the discussion ended, President Rajapaksa once again repeated his request for Buddhist priests to help maintain ethnic and religious harmony in the country. "It is OK to work to strengthen the Buddhist religion, but it should be done without creating conflicts with other religions," President Rajapaksa said.
Among the others present at the discussion were Minister of Water Supply & Drainage Dinesh Gunawardena, Minister of Petroleum Industries Susil Premajayantha, Deputy Minister of Buddha Sasana and Religious Affairs M.K.A.D.S. Gunawardana, Secretary to the President Lalith Weeratunga and Chief-of-Staff Gamini Senerath. (Presidential Media)
CT