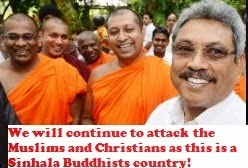 Gotabhaya is close to BBS
The UNP yesterday rejected claims by some sections of the government that the Bodu Bala Sena (BBS) was being used by international conspirators to tarnish the image of Buddhism.
It was elements within the ruling alliance that were instigating the BBS to act in the manner it did so that the resulting confusion could be used to cloud burning issues such as the rising cost of living, rampant corruption and the unprecedented crime wave, which had gripped the entire country, senior UNP MP, Ravi Karunanayake told The Island.
Responding to claims by some senior Ministers that the Rajapaksa government had kept quiete, hoping that the disruptive campaign by the BBS would tide over with time, MP Karunanayake replied "It is utter rubbish. Leading members of the UPFA government are fully behind the BBS. How can those entrusted with ensuring the security of the people fiddle for nearly five years while violent elements attacked the minorities including their places of religious worship and economic interests? No sane person will accept such a stupid excuse."
The MP pointed out that the government had been crying wolf for far too long and did not hesitate to brand those who criticized it with supportive evidence as deshadrodhin (traitors)."Sri Lankans are now sick and tired of hearing such foolish rhetoric."
The BBS and other extremists were all home-grown forces and there was no foreign connection whatsoever, he emphasized.
Karunanayake called on the Muslim Ministers and MPs in the government to stop "running with the hare and hunting with hound" and decide whether they wanted to continue to be in an administration that was treating the minorities like third class citizens who could be punched and kicked about with impunity.
By Zacki Jabbar
the Island