Bodu Bala Sena's Associations with Little, Little Smiles by Ajith Parakum Jayasinghe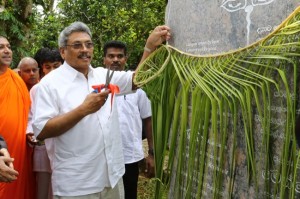 Meth Sevana, Galle
On March 09, 2013, Defence Secretary of Sri Lanka, Gotabhaya Rajapaksa inaugurated 'Meth Sevana,' the Cultural and Training Centre of Bodu Bala Sena (BBS), in Pilana, Wanchawala in Galle.
The Head of Meth Sevana, Ven. Embilipitiye Vijitha Thero said that training programmes for bhikkus and laymen will be held at the Center. It was introduced as a leadership training institute as well. BBS announced that this academy would be developed into a full-fledged Buddhist University in the future.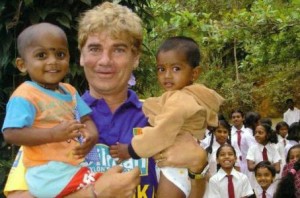 Michael Kreitmeir in Sri Lanka

The latest news which was partially reported in Lankadeepa website on May 29 said that Galle Additional Magistrate Gunendra Munasinghe had ordered BBS to evacuate the Meth Sevana Center in Galle.
The order was issued after hearing a petition by Batagoda Gamage Asanka Amarasiri. BBS secretary Galagodaaththe Gnanasara Thero, Embilipitiye Vijitha Thero, Vitharandeniye Nanda Thero and the Little Smiles Association, an NGO, were the defendants of the petition.
The petitioner stated that the BBS forcibly occupied a three acre land belonged to him since December 16, 2012. He has filed the case against BBS on February 14, 2013 after complaints in police did not lead to solving the problem..
We were curious to know what this Little Smiles Association.
On 17 February 2002, the Little Smile Association was recognized as a non-profit NGO by the Socialist Republic of Sri Lanka. The head office of the Association is established at Little Smile Village, Lower Ampitithanna Estate, Koslanda in Wellawaya.
The Association's objects and motives are given as follows:
The motive of the establishment of this social organisation is to work for the welfare and well being of the children and women with children who become orphans, helpless and deserted in the world due to various reasons.
Therefore this Association, as a social welfare organisation in Sri Lanka shall adopt various programmes and projects in Sri Lanka as well as over-seas, and execute and give effect to such programmes and projects.
Organisation and execution of various projects for the welfare of the orphans and deserted and helpless children and woman who are victimised due to various reasons in the world.

Establishment and execution of various programmes and projects for the welfare and well being of the children who have become orphans in Sri Lanka.

Operation of various programmes and projects for the welfare and well-being of the women having children and who have been deserted in Sri Lanka due to various reasons.

Assisting and giving support to social welfare organisations already operating in Sri Lanka.

Establishment and maintenance of orphanages and Childrens' homes, and also homes for the deserted and helpless woman with children in Sri Lanka.

Establishment and operation of institutions and operations owned by LSA and from which all profits are used solely for financing the projects and goals mentioned here under points a) through e).
For the orphans and deserted woman, the operation of following programmes:
Making avenues to receive English education.
Providing computer training.
Providing vocational training.
Operating a guardianship programme for the orphans.
Collaboration with other social organizations worldwide and with the government of Sri Lanka.
Involvement and intervention in affairs which promote the success of the above-mentioned activities.
The head of the Little Smiles Association is Michael Kreitmeir, a German national who says in Facebook that he lives in Koslanda. He says that he was former Former Regisseur und Filmemacher at BR – Bayerischer Rundfunk.
Can you identify the monks in this photo which was in Little Smile Association website?
The website of Little Smiles Association says with the above photo, "After the long journey from Koslanda on the South coast to Galle, Michael Kreitmeir prays for a good start for the new culture and meeting centre. He kneels at the little temple in front of the building, in which for many years the white Buddha from the children's village has been more than just a symbol for the fact that mutual respect and the acceptance of different religions, races and convictions, just as it is practiced in the children's village Mahagedara, will also become reality in the centre Meth Sevana. A few hours after this silent prayer the centre will be inaugurated."
The website of Little Smiles Association identifies this place as Meth Sevana. But Batagoda Gamage Asanka Amarasiri who claims for the ownership of the land says that BBS named this place as Meth Sevana and alludes that it was done without his consent.
The website of the Little Smiles Association says "After purchasing the land near Pilane in 2005 there were further purchases in 2006 and 2008 and the area was thus expanded up to its current size of 2 hectares." (see this page) Then who is this Batagoda Gamage Asanka Amarasiri? Has a legally registered mon profit organization purchased land under person's names? Why, a big WHY?
Defense Ministry website says, "The Methsevana was constructed and offered to Maha Sanga by Mr. Michael J.A Kreitmeir of Germany. Mr. Kreitmeir also handed over the official documents of the property to the founder of the Buddhist Cultural Centre Ven. Kirama Wimalajothi Thero during the ceremony. The Buddhist cultural centre is dedicated to restore the values of Buddhism in Sri Lanka."
It seems that Little Smiles Association inaugurated the disputed center in Galle as a meeting center. Their website says, "After the end of the civil war in 2009 it became clear that it will take a long time till the deep gaps which almost three decades of separation and violence have left, will be overcome. One important prerequisite for its success is mutual understanding, not only in terms of language differences, but especially in terms of religion, ways of thinking, cultural differences.
And this is why LSA builds a meeting center in Galle." Visit

this page

for more information on this center.
It is unclear how BBS occupied this place in a way a person who claims the ownership of the premises had to go to courts to oust them. Reportedly, Michael Kreitmeir was also in the gathering as Defense Secretary opened the so called Cultural and Training Centre of BBS although he was not given prominence. Apparently, the BBS misled the German philanthropist who disillusioned late but hit back venomously.
We tried to contact Little Smiles Association via its local phone number but the phone was not answered. However, it was after the office hours. You can vies contact details of the Association in

this page.

Little Smile Association has raised funds for this center in Galle from various donors. (See this page) Have they informed the donors that the center will be used by an organization like BBS which is ill famous for its anti minority chauvinist stances and hate campaigns.
We found a report by Asian Human Rights Commission (AHRC) regarding arrest of this Michael Kreitmeir in 2010. Read it.AHRC says the arrest was based on fabricated charges. We couldn't find what happened to the case filed against Michael Kreitmeir.
There is lot of mysteries behind the Meth Sevana drama which should be clarified both by the BBS and Little Smile Association.
Trial of German development workers, ( what happened to Michael Kreitmeir in 2010)
The 17th August was the day that Michael Kreitmeirs life hell was: The German, who lives as an aid worker in Sri Lanka for eleven years, there has built a children's village and founded several social projects, was on his way home from a hospital to which he so . Featuring: son Manuel, who was visiting from Germany. Suddenly, the two got into a police check. "This is nothing unusual," says Kreitmeir hindsight in an interview with TV star. But soon he realized that it was not a normal control.
Alleged heroin Fund in the car
"From the first moment we had to leave the cell phones, the watch store," he says. Then the officers had begun to search the vehicle. "I've never seen a car was so taken apart," he says. The officers had the car practically dismantled. Half an hour had taken the search – then suddenly an officer had a small bag held high. The alleged content: heroin. "I was separated from my son, we were interrogated all night," says Michael Kreitmeir.
Click here to find out more!
Today, the German is sure: "This was not a random control. Who knew about me, "His presumption. A local minister has prompted the control and ensured that they foist him drugs. "I have never touched or taken heroin in my life," he insists. Kreitmeir believes that it is an act of revenge by the Minister. Because: In March this year, the Minister had approached him – and had demanded 200,000 euros protection money for his campaign from him. Kreitmeir refused, filed with the German Embassy complaint and the Minister indicated to the police, he says.
"It was like going to hell"
Although the minister had threatened Michael Kreitmeir, the German was not intimidated, but as they always cared about his social projects – until his arrest on 17 August. While his son Manuel was released after a short time, Michael Kreitmeir went to prison. "The worst moment was when the judge ruled that my father must remain in custody and I must go," Manuel says Kreitmeir today to TV star. "I thought we were through this together. And then they tear him away suddenly and I stay back. "
For Michael Kreitmeir started in a prison in Sri Lanka probably the worst time of his life: "The first two days and nights it was for me a bit like a visit to hell," he says. He lived with a dozen other prisoners in a small cell in which there was only one toilet, nothing else. "The hygiene was a disaster," he says. Water have not been there and the food was spoiled.
Children's Village employees received threats
During his father's time in prison was also the children's village, built Kreitmeir has taken damage, reported son Manuel: "The board was arrested, the workers went on strike and were afraid. Teachers and staff are cut, all have received threats. "Then the youth office is also yet arrived and wanted to take the children's home. "Thank God, has been overlooked in the arrest of one of the men from the board, who then arranged everything with me."
After nine days of Michael Kreitmeir finally came free, on bail. "A high Christian ministers helped me," he tells TV star. Nevertheless Certainly Kreitmeir still can not feel. A few days ago the court case against him has begun. Although Kreitmeir does not expect that he will be sentenced. "Because I believe in the justice here," he says.
"Leaving is not an option"
But even if he were acquitted, he must continue to fear for his life: "The minister will not let that stand for that," he says. "I'm afraid that everything I've built here will be destroyed." Remain in Sri Lanka but still wants the German: "When I'm gone, then I think many people are losing their future, their children home" he says. And: "I've put my life in here. Leaving out of the question for me is "But." I also believe that the truth can win, "he says in an interview with TV star
a GOOGLE translation of INSD blog post