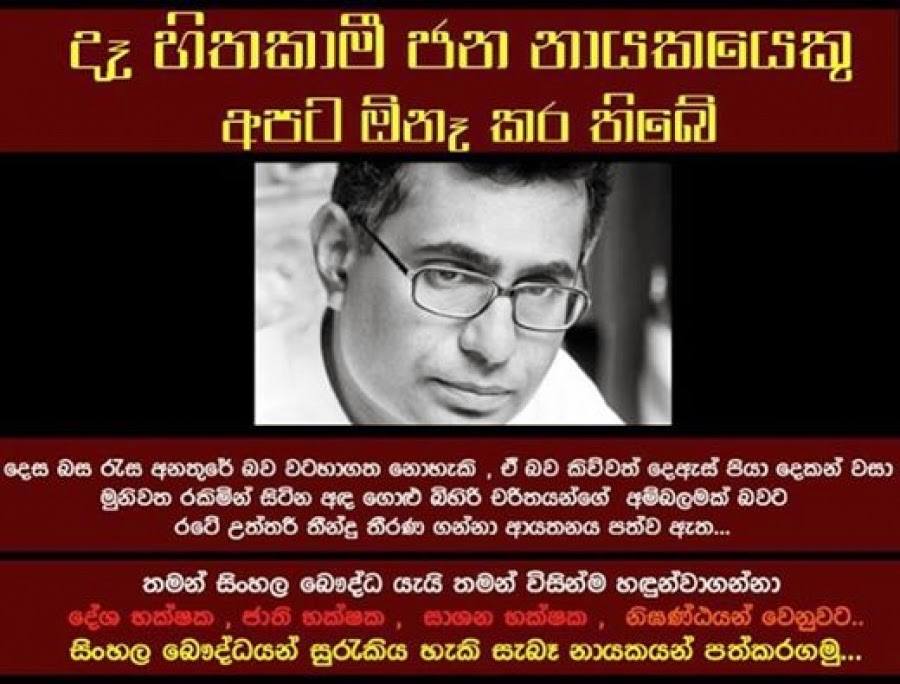 Social Media campaign
Bodu Bala Sena and several Sinhala-Buddhist organizations have started a social media campaign promoting JHU stalwart Minister Patali Champika Ranawaka as the next "President of Sri Lanka". BBS backed social media pages state that Sri Lanka needs a 'Sinhalalese President' to rescue the nation from "various challenges" that have emerged not only from without, but also from within. In his controversial speech in Aluthgama just before the clashes, BBS General Secretary Galagodaaththe Gnanasara said the time was ripe to appoint a "Sinhalese President" as the leader of the country.
He also criticized President Mahinda Rajapaksa for appointing a "Muslim man" as the Minister of Justice in the country. "In this country, everyone has leader, except us, the Sinhalese. The Marakkalayas ( a derogatory way of addressing Muslims) have leaders. Tamils have leaders. But we, the Sinhalese, do not have a leader," Gnanasara Thera lamented in his speech in Aluthgama.
Minister Ranawaka, on the other hand, has publicly justified the conduct of the Bodu Bala Sena, particularly after the clashes which occured in Beruwala, Aluthgama and Dharga Town last week. He said the Muslims should take the blame for the incident as they hurled the first stone.