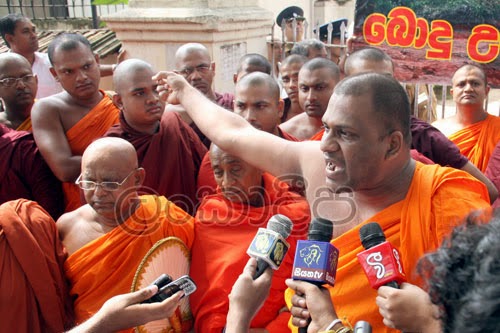 The only way the Bodu Bala Sena (BBS) menace could be controlled was for all the Muslim Ministers to sit independently in Parliament, the UNP said yesterday.
UNP Chairman Kabir Hashim MP told  the "Sunday Island" that some Muslim ministers had threatened to boycott the legislature in protest against  the latest campaign by the BBS over  the resettlement of Northern  Muslims who had been driven out of the North by the LTTE in 1990, the majority of whom continued to live in camps.
"Boycotting Parliament is not the answer since some ministers are rarely seen in the House",he noted.Unless a tough stand was taken, there was no way the Rajapaksa regime would rein in the BBS which has made life miserable for the minority communities ever since the war ended.
Hashim said that Muslim members of the government party in other elected bodies should also sit with the opposition or independently if the government was to be brought to its senses.
Representations to the president over the last five years have obviously had no effect, going by the continued attacks on virtually all aspects of Muslims lives including their religious places of worship and economic interests. The president as usual assured the various delegations who met him that the miscreants would be brought to justice and the issues resolved. But nearly five years after the war had ended the situation had gone from bad to worse, he pointed out.   
Hashim observed that the reception accorded by members of all communities to Sri Lanka's T20 World Cup winning team indicated that the minorities were willing to integrate as one nation though some extremist elements such as the BBS were trying to marginalize the minorities due to their warped thinking, irrational fears and belief that this country belonged to only the Sinhalese.
If the Rajapaksa regime continued to mouth empty slogans without disciplining the extremists, the future would turn out to be very bleak. The indifferent attitude of the powers that be was one of the prime reasons for the country being pilloried at the UNHRC and other international forums, he noted.
by Zacki Jabbar