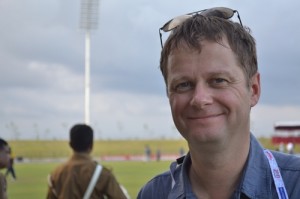 BBC News Charles Haviland was among the journalists detained briefly
As we finished filming at the rally, our three-member BBC team and driver were seriously threatened with violence by some members of a mob of more than 20 young men who told us not to drive off.
Some police arrived and looked on as my Sri Lankan colleagues were verbally abused in filthy language, described as "traitors" and accused of having "foreign parents" and working for a "foreign conspirator" who was "against Sri Lanka".

Some of them warned us that if we returned to the location – the mainly Buddhist suburb of Maharagama – it would "be the end" of us.
The police held back the more aggressive youths but appeared to comply with the mob by barricading our vehicle, calling us "suspicious" and ordering us not to leave until they got the go-ahead from their superior. That was worrying.
As we waited for him, the mob took a large number of photos of us and our vehicle. A little later the senior policeman arrived. He seemed good-humoured and waved us off.
by Charles Haviland
BBC News, Colombo
BBC