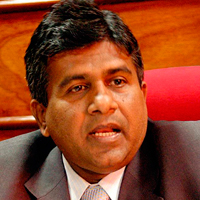 Wijedasa Rajapaksha
Shooting in front of BASL presidents residence
President of the Bar Association and UNP MP Wijayadasa Rajapakse has complained to police that there had been a shooting in front of his home around 12.20 am today (Dec. 20).
He has also said that this driver searched the area and found three empty cartridges later in the morning.
Police are investigating the complaint.
However, police spokesman SSP Prishantha Jayakody said there had only been a lighting of firecrackers at the home of a neighbour of Mr. Rajapaksa.

No damage or injury has been caused, he said.
SLM

Wijedasa Rajapaksa too is warned
A shooting has taken place opposite the residence of Parliamentarian Wijedasa Rajapaksa say reports. The Parliamentarian has told media that today (20th) early morning (12.20 a.m.) he heard three shots being fired and found three fired cartridges.
He said a team of police officers are conducting investigations.
Recently Attorney Gunaratne Wanninayake was threatened near his residence by four armed persons. Mr. Wanninayake is an active member of the Lawyers' Collective that was in the forefront of the opposition of lawyers for the impeachment process brought against the Chief Justice by the government.
Parliamentarian Wijedasa Rajapaksa is the President of Sri Lanka Bar Association that passed three resolutions unanimously against the impeachment process
Gunshots heard near MP Wijeydasa's house .
The Mirihana Police are investigating a complaint lodged by BASL President MP Wijeydasa Rajapakshe after two empty cartridges were found in the vicinity of his house early this morning, the Police said
Sources said that the youngest son of the MP had heard gun shots at 12.20 am today and had heard a car driving by thereafter. Subsequently the driver of Mr. Rajapakshe had inspected the vicinity of the house early this morning when the two empty cartridges were found.
The Police are currently recording a statement from Rajapakshe at his residence in Nawala.
DM
Police investigate gunfire incident near Wijedasa Rajapakshe's house .
A pistol could have been used to fire two 9 mm bullets in the shooting incident near the residence of Bar Association President Wijeyadasa Rajapakshe, Police Spokesman said.

The Mirihana Police are conducting investigations but so far no arrest as been made, Police Spokesman SSP Prishantha Jayakody said.

According to the Police Spokesman UNP MP Mr. Rajapakshe, complained to the Mirihana police that his son had heard the gun shots around 12.30 early morning, subsequently, his driver had found two used cartridge near the house.
ST
President visits Wijedasa's home .
.
President Mahinda Rajapaksa visited UNP MP and BASL president Wijeydasa Rajapakshe's Nawala home today following a complain that gunshots were heard from the vicinity of the home last night, President Spokesman Mohan Samaranayake said.