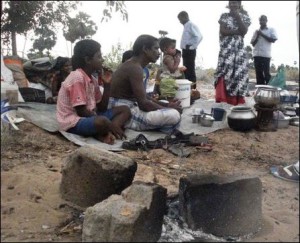 Abandoned IDPs in Vadamaraadchi East
The Raamaavil camp inmates, who were suddenly herded out in the middle of the night by the occupying SL Army to make a show of 'resettlement' during the visit of the presidential sibling Basil Rajapaksa to Jaffna, are now facing further misery.
Staying in two small schools in Vadamaraadchi East, without food or facilities they are left to their own 'resettlement' in their villages, where they find even the foundations of their houses had been dug out. They are abandoned, say TNA parliamentarians who with much difficulty got 'permission' from the SL Army to visit them Tuesday. But it is more than that: they are left in an open prison with discouragement to resettle, where thousands of Sinhala fishermen are 'licensed' to come, commented a social worker in Jaffna, pointing to the strategic significance of the area linking Jaffna with Vanni.
This is happening in the Jaffna peninsula. The thousands of diaspora visitors who now come after paying 'visa' fee (defence clearance money) to colonial Sri Lanka, may not have seen or even heard of these places in Jaffna, the social worker further said.
Vadamaraadchi East is a narrow sandbar that links the peninsula with the Vanni mainland. This area was under the control of the LTTE before the war.
Raamaavil camp inmates have come from several coastal villages of this stretch, such as, Veththilaikkea'ni, Kaddaikkaadu, Nithiyaveddai, Poakka'ruppu, Keavil, Vearaavil etc.
The war-afflicted people were not permitted to resettle so far, as the area was strategically important to the occupying military. They were interned in the Raamaavil camp located near Kodikaamam in the Thenmaraadchi division of Jaffna.
The Saturday midnight herding of the people from the camp and the Sunday noon meeting of Basil Rajapaksa announcing their 'resettlement' was eyewash to the outside world and a campaign for the civic elections, political observers in Jaffna said.
The occupying military is treating the area as an open prison where as it permits thousands of Sinhala fishermen to come there and camp for fishing.
Raamaavil camp inmates are currently staying in two small schools at Veththilaikkea'ni and Veeraavil.
Scrub forest surrounding the village schools was cleared for their stay and one or two of them had snakebites.
As it was heavily raining on Monday, the IDPs including their small children were found drenched.
A one-time payment of 500 rupees (5 US dollars) each was what they got so far and nothing else.
After getting 'permission' from the SL Army with some delays, TNA parliamentarians Sridharan and Saravanabhavan visited the IDPs to give them some food provisions on Tuesday.
TN