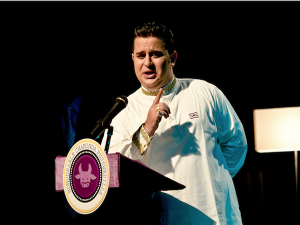 President Mahinda Rajapaksa has cleared the latest edition of the popular political satire 'Pusswedilla' to be staged after the Colombo Gazette had reported that the censor board had banned the new comedy.
The Director of Pusswedilla, Feroz Kamardeen, told the Colombo Gazette that the President had contacted him today and inquired about the censor board ban.

According to Kamardeen, the President had expressed regret over the decision taken by the censor board and insisted that he had no objections to the stage comedy.
President Rajapaksa had later assured that he would intervene in the matter as he himself had enjoyed the character of Pusswedilla.
The censor board had earlier refused permission for the latest edition of Pusswedilla to be staged on the premise that it criticizes the Commonwealth summit.
Kamardeen said that 'Pusswedilla Part 4.1 The Comon Welthings Summit' was to go on boards at St. Thomas College, Mount Lavinia on November 30.
However two days earlier the censor board had informed Kamardeen that the play had not been given the green light.
"The school asked me if I can do a skit for them so I decided to do a 20 minute skit of Pusswedilla which however did not get approval from the censor board," Kamardeen said.
The cast of Pusswedilla 4.1 eventually turned up on stage at the school on November 30 and sat down as a mark of protest.
Kamardeen then appeared on stage and explained the reasons as to why the play will not be aired and expressed regret.
"Pusswedilla will be back. We will not back down. In keeping with the finest traditions of democracy we will continue to make fun of our political masters on both sides of the political divide. We will continue to exercise our freedoms of speech and expression that is guaranteed to us in our constitution," he said.
Kamardeen noted that from the very beginning the local censors have made it difficult for 'Pusswedilla' to continue despite its huge popularity.
Report by Easwaran Rutnam (Colombo Gazette)