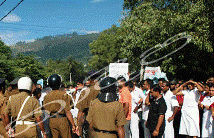 Police fired tear gas to disperse an unruly mob that disturbed the peace in the Badulla town yesterday.
Minor employees of the Badulla Hospital staged a protest against the alleged failure of the police to investigate an accident in which one of their colleagues was seriously injured. The protest, staged in the middle of the town, brought traffic to a standstill.

The unruly protesters ignored police orders to disperse and as police pressure mounted, they began to pelt stones at the law enforcers, causing injury to the Officer in Charge of the Badulla police station. That forced the police to fire tear gas in order to bring the situation under control, the police said.
Hospital sources said that a minor employee of the Hospital was admitted to the ICU following a motor car accident which occurred on Saturday (11) night near the hospital. He was brain dead and his condition was critical. The hospital staff launched a protest campaign yesterday against the Badulla HQI E. Bandara, who thereupon used tear gas to disperse the crowd.
As a result of tear gas attack, a lady doctor, who was working in the medical casualty unit, had been admitted to the ICU, as tear gas had penetrated the hospital, they said.
The inspector who was injured when hit by a stone thrown by the mob was admitted to the Kandy hospital and from there to the Peradeniya Casualty ward.
Meanwhile, the Government Medical Officers' Association said it would ask the IGP and the Governor of the Uva Province to immediately transfer the HQI from Badulla.
GMOA Media Spokesman Dr. Navin de Soysa said that on August 11 night a minor staff member was knocked down by a Demo Butta and was admitted to the Badulla hospital. He sustained critical injuries and was brain dead and still in the ICU. Because of the police inaction to arrest the culprits, the Badulla hospital staff launched a peaceful protest campaign yesterday. But the Badulla police used tear gas to disperse the protesters. The HQI was also injured as protesters pelted stones at the police.
He said that the GMOA had taken a unanimous decision to ask the Defense Secretary Gotabhaya Rajapaksa and the IGP to immediately transfer HQI E. Bandara from the Badulla police station as the police were very inactive. "The main complaint against the police was that during the tear gas attack a lady doctor in the medical casualty unit was affected and was admitted to the ICU. If the Defense Secretary and the IGP do respond to the GMOA's request to transfer the HQI, there could be stronger trade union action commencing today, he said.
When contacted the Kandy hospital Director Gamini Dissanayaka said that HQI Bandara was admitted to the hospital as he had sustained mild head injuries. The X-ray and CT scan tests were done. They were normal. He was admitted to the Peradeniya casualty ward. He would be discharged soon.
The Uva Province Governor Nanda Mathew, when contacted, said that emergency meeting with the Uva Province Health Secretary and DIG Willy Abyenayaka would be held today. "We have to intervene into this incident without delay, because this problem will affect the Uva province," the Governor said.
By Norman Palihawadane and Don Asoka Wijewardena
IS