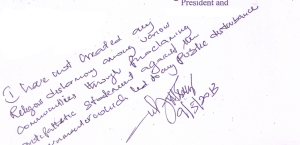 This is what Azad Salley wrote at the end of D order
Former Deputy Mayor of the Colombo Municipal Council (CMC), Azath Salley, was released yesterday afternoon, ending his eight-day detention under the Prevention of Terrorism Act (PTA).
President Mahinda Rajapaksa revoked the controversial detention order under which the Muslim politician was held after Salley submitted an affidavit to the President in which he denied having supported or advocated any group to take up arms against the country.

In his affidavit, Salley stated that he had been misquoted in an earlier interview that appeared in Tamil Nadu-based magazine, Junior Vikatan, and noted that the magazine concerned carried a correction subsequent to his request.
He also maintained that he attended a conference organized by the Popular Front of India, an organization about which he had no prior knowledge.
He added that he was a 'patriotic citizen of Sri Lanka' who stood by the sovereignty of the country.
Salley was arrested on 2 May for allegedly making racially inflammatory statements in Tamil Nadu, against Sri Lanka.
Shortly after his release, Salley was admitted to a private hospital in Colombo for medical treatment, as he had engaged in a continuous fast in protest against his arrest.
"I didn't eat for eight days, but went on a liquid diet in the last three days," he told Ceylon Today.
Family members said Salley would not be returning home right away as he needed immediate medical attention. However, they hoped that he would recover enough by tomorrow to issue an official statement.
Meanwhile, Salley's political partner, Leader of the United Socialist Party, Sirithunga Jayasiriya, dismissed statements that Salley was released after apologizing to President Mahinda Rajapaksa.
"There was absolutely nothing to apologize for as he had not done anything wrong. There are rumours afloat suggesting that he asked for forgiveness, but he did not. The only thing that happened was that at the bottom of his detention order, he wrote that he did nothing in support of terrorism, or to topple the government. He is innocent of these allegations," Jayasuriya said.
By Aisha Nazim/ CEYLON TODAY