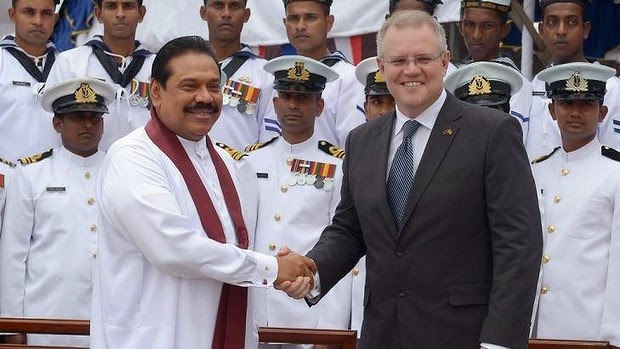 Morrison with Rajapaksa (SMH)
REUTERS: An Australian Minister came under fire on Thursday for not meeting Tamil leaders on a visit to northern Sri Lanka, only days after Australia returned a boat of asylum seekers, including Tamils, under its hardline border security policy. Some of the 41 Sri Lankans intercepted and sent home by Australia said on Tuesday they had been mistreated by Australian Customs, accusations Immigration Minister Scott Morrison denied.

A second boat carrying 153 Sri Lankan asylum seekers remained in legal limbo as the Australian High Court considered whether their interception was legal.
Most of the group returned to Sri Lanka are members of the majority Sinhalese community and not minority Tamils, who have alleged persecution by Sri Lankan authorities since the defeat of Tamil Tiger separatists in the north in 2009.
During a visit on Wednesday to the northern city of Jaffna, Morrison met the Governor of the Northern Province, G.A. Chandrasiri, a presidential appointee.
Local Tamil groups were upset Morrison did not meet the province's Chief Minister, C.V. Vigneswaran, the leader of the Tamil National Alliance, the party that finished first in last year's regional election, or any civil society groups.
"He did not meet any single Tamil representative or civil society group," Tamil National Alliance Spokesman Suresh Premachndran told Reuters. "I still don't know the intention of his brief visit. He may want to show that he visited Jaffna. But he did not speak to any Tamils." Morrison's schedule was organised by the Sri Lankan Government, a Spokesman for the Minister said, adding that he has previously visited the north with members of the Tamil community. He was visiting Sri Lanka to hand over two patrol boats to strengthen the island nation's surveillance against people smuggling.
"The purpose was to hand over the boats on the invitation of the Defence Ministry. The date was fixed long before the people tried to enter Australia," Sri Lanka's Deputy Foreign Minister Neomal Perera, who also met Morrison during his visit, told Reuters. "It was unfortunate the visit came during these days."
Perera declined to comment on the boat containing 153 people that remains at sea, its fate uncertain.
The United Nations has launched an inquiry into war crimes allegedly committed by both Sri Lankan state forces and Tamil rebels in the final months of the civil war, saying the Government has failed to investigate properly. Sri Lanka rejects such allegations as interference in its internal affairs.
While Sri Lanka says many asylum seekers are economic migrants, rights groups say Tamils seek asylum to prevent torture, rape and other violence at the hands of the military.
The 37 Sinhalese and four Tamils on the first boat were returned to Sri Lanka over the weekend and appeared in court in the port city of Galle.
Group members told Reuters they had been trying to reach New Zealand, not Australia, to seek jobs for a "better life". One man said he had "no problem" with the Sri Lankan Government.
Five people suspected of being the ringleaders of a people smuggling operation were detained and 27 were released on bail. All children were released without charge.
Asked by reporters in Colombo if he was concerned the 41 would be mistreated by Sri Lankan authorities, Morrison said: "No, I'm not."